In the 16 years that she has been alive, Miranda Tymoschuk has endured 11 major leg surgeries, a painful metal leg brace and countless overnight stays at RCH. Miranda was born with a rare condition called posteromedial bowing of the tibia and fibula, which has dramatically bowed and slowed the growth of her left leg.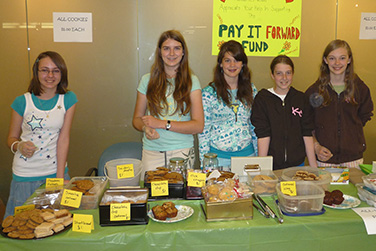 But Miranda is not one to let health issues get in the way of her caring for other people.
In 2008, Miranda and her friends presented $500, raised through the sale of cookies and friendship bracelets, to the paediatric staff and her orthopaedic surgeon, Dr. Shafique Pirani, in support of patients' families.
"When I was in the hospital, we needed help for things like gas and meals," says Miranda, whose family accessed RCH Foundation's Emergency Response Fund last year. "I wanted to 'pay forward' the money we raised to help other families who need it.
To date, Miranda has raised more than $5,000 towards what is now called the Pay It Forward Fund at Royal Columbian Hospital. Anyone who receives money from the fund is only asked to Pay It Forward in any way they can.
In addition to her philanthropic work, Amanda has aspirations to become an orthopaedic surgeon, as inspired by her physician, Dr. Shafique Pirani, winner of the 2012 American Association of Orthopaedic Surgeons Humanitarian Award.
To make a donation to Miranda's Pay It Forward Fund, call 604.520.4438 or donate online.