Cathy MacDonald suspected something had changed when even a walk up the driveway or a simple stroll along a flat path began to challenge her stamina. Still, the results of a bone marrow test came as a shock. The 63-year old Belcarra resident was diagnosed with multiple myeloma, a blood cancer that forms in plasma cells and is typically incurable.
Via Fraser Health news release – Bird Design-Build Construction Inc. has been selected as the preferred proponent to build Royal […]
Darby Hamilton had learned to live with the headaches that had plagued her for the past couple of years. But this time was unlike anything she had ever felt before. The pain left the 26-year old Mission resident screaming in agony. She eventually would be transported to Royal Columbian Hospital – the region's brain and spine centre – where she soon slipped into a coma and, according to her neurosurgeon, was minutes away from death.
As students enjoyed the first days of summer vacation, Darren Stewart was closing the books on another school year. The 49-year old principal of Como Lake Middle School in Coquitlam was at home, winding down for the night, when he first grew uncomfortable. He thought it might be indigestion, but it eventually progressed to a cold and clammy feeling. By early next morning, Darren's condition would dramatically deteriorate, necessitating a major lifesaving effort at Royal Columbian Hospital.
It was a complete shock when Sarah Senft's water broke. The North Shore family physician was not yet 30 weeks pregnant. She and her husband Riley, an anesthesiologist, were in California at the time for a family wedding. While the couple tried to stay calm, it was the start of a whirlwind of events that led them to be airlifted unexpectedly to Royal Columbian Hospital, where Zoe Senft was born several hours later, 10 weeks premature.
Keeping your children entertained while visiting Royal Columbian Hospital is easier to do courtesy of two local groups. The Group […]

The collaboration between a Simon Fraser University professor and a critical care physician at Royal Columbian Hospital to wean seriously ill and injured patients off mechanical ventilators will benefit from a new research position established by the hospital's foundation.
Dr. Steve Reynolds has been awarded the Royal Columbian Hospital Foundation Professorship in Critical Care at Simon Fraser University. The $250,000, five-year professorship will support his research, aimed at saving lives and health costs.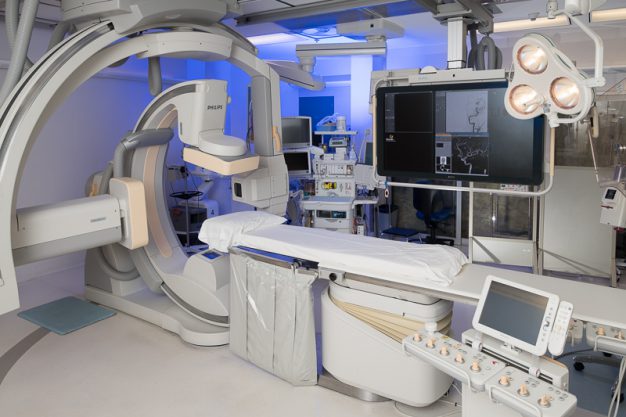 In a major step toward establishing Royal Columbian Hospital as a comprehensive stroke centre, Fraser Health is now providing centralized support for stroke patients with the implementation of a 24/7 Regional Acute Stroke Team. Stroke is the fourth-highest cause of death and the number one cause of acquired long-term disability in adult British Columbians.
Spencer Evans had reason to be excited about the coming months as he went into work in early 2015. His son would be born later in the year, and he was gearing up for his second season with the Maple Ridge Burrards of the Western Lacrosse Association, the local team he had grown up watching. All of that suddenly took a back seat in Spencer's mind when a workplace accident sent a heavy steel plate crashing onto the 22-year old's left arm.
Gurcharan Singh Dhindsa remembers an intense toothache. He felt unsteady as he walked down the stairs at his local Gurdwara. The 81-year old Abbotsford man somehow drove home and lay down on his bed. When his wife and granddaughter checked on him, he could no longer speak. He fell over when they tried to get him up. Unbeknownst to the family, a large clot had blocked one of the major arteries providing blood flow to the brain, triggering a potentially devastating and deadly stroke.