Discounts for staff/medical staff
Here are discounts, offers, and support available to Royal Columbian staff and medical staff, subject to availability at participating businesses:
Food
• Homespun Café (301 E Columbia St, New Westminster) donates 1% of annual sales to Royal Columbian Hospital Foundation.
• Cactus Club Cafe is offering a Healthcare Hero Combo for $13.75 with your choice of a sandwich, salad or bowl plus a drink and cookie.
Shopping/services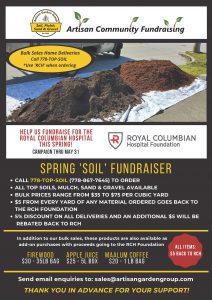 • Spring Soil fundraiser now to May 31. Click on image above to enlarge. Call 778-TOP-SOIL or email sales@artisangardengroup.com
• There is a pop-up nursery in Sapperton in the 450 E. Columbia Street parking lot (Royal City Physio) with partial proceeds supporting the struggling merchants in that complex.
Bedding Plants: Friday, April 9th to Sunday, April 18th– 10am to 5pm each day
Mother's Day Plants: Friday, April 30th to Sunday, May 9th – 10am to 5pm each day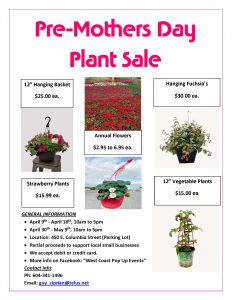 • In recognition of the important role that essential workers and staff at hospitals play in our community, Notary Public Paul Williams wants to extend a discount of 10% off services by April 30, 2021, including Wills, Powers of Attorney, Representation agreements, and Notarizations. A person has only to show workplace identification or a business card to take advantage of this offer. Contact 604-245-2244 for more information.
Gas/transportation
• Royal Columbian Hospital Foundation is covering the cost of taxi service as needed for staff and medical staff. Please connect with your supervisor for further information.