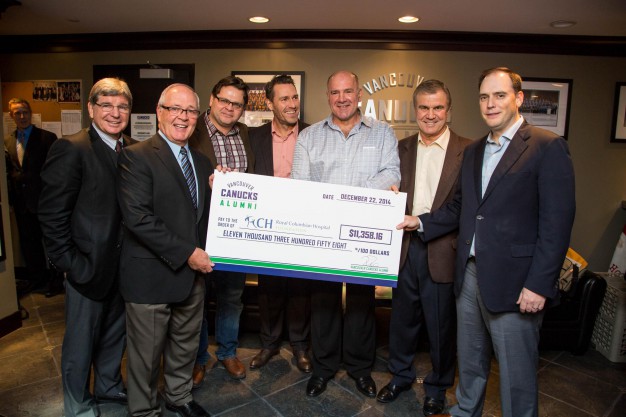 Members of the Vancouver Canuck Alumni gathered in the Rogers Arena Alumni Suite prior to the December 22nd game with Arizona to hand over some holiday cash to Royal Columbian Hospital Foundation.
Despite the fact Christmas was only a couple of days away, the cheque presentation had little direct connection with the Yuletide celebration. The money was raised as a result of an Alumni event held on a very different holiday: the Victoria Day weekend in May. That's when alumni golfers, their friends and supporters hit the links at Northview Golf and Country Club in Surrey for the annual Vancouver Canuck Alumni Charity Golf Tournament, a fundraiser that delivered almost $12,000 to one of British Columbia's busiest hospitals.
Alumni Association President Gerry Sillers (2nd from left) was on hand to deliver the money to Royal Columbian Hospital Foundation President and CEO Jeff Norris (1st from right), while a host of active alumni member – many of whom took part in the 2014 event – looked on.