If you or a loved one has come through our doors, you know why a third of British Columbians rely on Royal Columbian Hospital for critical care.
We are the only hospital in BC with trauma, cardiac, neurosciences, high-risk maternity and neonatal intensive care on one site. We are also one of Fraser Health's three primary COVID-19 sites. We look after some of our province's most seriously ill and injured patients. In addition, we are a teaching hospital and a UBC Clinical Academic Campus.
We do it with the support of donors like you.
Building on a strong tradition of caring and community support, Royal Columbian Hospital Foundation (RCHF) was established in 1978 to raise funds for the hospital's first CT Scanner. Since then, the mission of RCHF has been to raise money to help the hospital save lives, restore health and provide comfort to seriously injured and ill patients of all ages.
Today, RCHF is an independent charitable organization that raises millions of dollars each year to fund major projects, priority equipment needs, facility enhancements, research, education and innovation at RCH.
Thousands of individuals, businesses, community groups and foundations in surrounding communities and across the region provide generous support to help RCHF achieve its vision — to inspire giving and grow funding so patients have access to the best in health care at Royal Columbian Hospital.
Charitable Registration Number: 11912 8866 RR0001
Legal name: Royal Columbian Hospital Foundation
The 2022-2023 Foundation Board
Our board is made up of a committed team of volunteers, who help build public support for Royal Columbian Hospital.
Cameron Belsher, Chair

Cam Belsher is a senior partner and national head of mergers and acquisitions at McCarthy Tetrault LLP. A resident of New Westminster for close to 30 years, both of Cam's children were born at Royal Columbian Hospital.

Norm Taylor, Vice-Chair

Norm Taylor is Vice President, National Advisory at CMLS Financial. Born and raised in Toronto, Norm moved to attend the University of British Columbia where he graduated with a BA in 1995, after which he began to work in real estate. Norm lives in North Vancouver with his wife, and together they have three children and a dog.

Tom Corsie, Treasurer

Tom Corsie is the Vice President of Real Estate at the Vancouver Fraser Port Authority and is responsible for all matters pertaining to real estate management, engineering, asset maintenance and Canada Place. Tom attended school in his native New Westminster, followed by Simon Fraser University and Douglas College. He has been awarded the designation of Professional Port Manager by the American Association of Port Authorities.

Jennifer Podmore Russell, Secretary

Jennifer Podmore Russell is the Senior Vice President at rennie. Having built a career and reputation on her ability to develop real estate strategies tailored to both the client, circumstance and desired outcome, Jennifer is a sought after advisor to the real estate industry. Jennifer oversees Operations for rennie to ensure the smooth delivery of services by its 135 advisors and 70 team members that comprise the head office support.

Jeff Norris, Foundation President and CEO

Jeff Norris is President and CEO of Royal Columbian Hospital Foundation. His career in non-profit organizations spans two decades and includes experience in health care and post-secondary sectors. In 2013, Jeff was recognized by Business in Vancouver with a "Forty Under 40" Award. He is the recipient of the 2014 Giving Hearts Award for Outstanding Professional Fundraiser by the Vancouver chapter of the Association of Fundraising Professionals.

Hema Bhatt

Hema Bhatt is the co-founder and Vice President of Natu'oil Services Inc. She has been with the company since its inception in 2003. Hema has two daughters and both are employees of Natu'oil Services Inc. Hema hopes to inspire young women to take on leadership roles and succeed in business.

Dr. Sukh Brar

Dr. Sukh Brar is an Anesthesiologist and Cardiac Intensive Care Physician at Royal Columbian Hospital, as well as Past-President of the BC Anesthesiologists' Society. Dr. Brar can be found in the operating room during complex surgical procedures or on the floor of the Cardiac Services Intensive Care Unit to ensure patients get healthier before they can return home to their loved ones. Dr. Brar has helped lead efforts to better manage the supply of blood for critical transfusions as Chair of the hospital's Blood Conservation Working Group, and he has been the local lead on a Canada-wide trial aiming to revolutionize the management of bleeding in cardiac surgery patients.

John M. Clinton, ICD.D

John Clinton is a senior communications executive. He has worked in leadership roles in advertising, publishing and public relations. John is also an accomplished sculptor whose work can be found in collections in Canada, the U.S. and Europe.

Diana Miles

Biography coming soon

Lynn Radbourne

For the 50 years Lynn has resided in New Westminster, she has volunteered and worked here. She worked for Fraser Health at RCH, St Mary's, Delta Hospital, Surrey Memorial, Queens Park and finally Langley Memorial, where she retired seven years ago. She's been active in the community serving as board member and Chair of Massey Theatre, board member of the Arts Council, various City Committees and founder and coordinator of the New Westminster Youth Ambassadors. She is a puppy raiser for BC & Alberta Guide Dogs and in her spare time is a member of the Order of the Eastern Star and Daughters of the Nile. Lynn was voted Citizen of the Year in 2015 and is the recipient of the Bernie Legge Cultural Award. Before joining the RCH Foundation Board, she was a member of the Queens Park Hospital Foundation.

Farid Rohani

Farid Rohani is the immediate past Chair of the Laurier Institution. During his tenure, he established the Ethics and Human Rights lecture, expanded the M.K. Wong Lecture Series (CBC Radio). He also established Canada's first Indigenous speaker series at Vancouver Island University.
He has served on the Royal Canadian Mountain Police (E-Division) Diversity Advisory Committee, and on the Steering Committee of the Vancouver Dialogues Project. He has been honored with the British Columbia Multicultural Award (2011), the British Columbia Regiment Commanding Officer's Commendation (2014), and has been recognized as a Georgia Straight Cultural Navigator (2013).
Farid publishes widely on immigration, diversity and ethics. He also manages his family's Vancouver-based development and real estate holding company.

Han Shu

Han is the Chief Financial and Operating Officer at D3 Security, a leading software company for cybersecurity. Han was the Treasurer of Queens Park Hospital Foundation where she oversees the Finance and Investment strategy. She's also passionate about her own profession and has been a veteran advocate for the Chartered Professional Accountants of BC. When she's not disrupting the status quo through purpose-driven work, she can be found volunteering, kickboxing, and making her daughter laugh.

Dr. William Siu, MD, FRCPC

Dr. William Siu is a radiologist with a subspecialty in neuro and interventional radiology. After completing medical school at University of British Columbia in 1994, he spent a year at Royal Columbian Hospital as an intern and was impressed by the collegial and "can do" atmosphere at RCH. After completing his radiology residency and fellowship subspecialty training at UBC, he was fortunate to return to RCH in 2000 as a staff radiologist.

Emily Taylor

Emily Taylor is Chief Financial Officer, British Pacific Properties Limited. Emily is committed to providing strong, strategic leadership and creating long lasting relationships with partners and stakeholders. She earned her ICD.D designation through the Institute of Corporate Directors in February 2018.

Rana Vig

Rana Vig is an entrepreneur who has 30 years of business experience, during which time he has helped to launch five business ventures in private industry. In 2010, Rana became involved in publicly traded companies – first as the Executive Vice President at RTN Stealth Software Inc., then as president of Musgrove Minerals Corp, and in 2013, as Chairman and CEO of TSX listed Continental Precious Minerals. He is currently President & CEO, Blue Lagoon Resources. Rana is a former chair of British Columbia's Open Learning Agency, and continues to serve on public company boards and committees.

Fred Withers

In 2014, Fred retired as a Partner and Chief Development Officer for Ernst & Young LLP (Canada). An auditor by training, Fred was the Managing Partner for British Columbia from 2001 to 2011 and the Managing Partner for Western Canada from 2005 to 2011. He is currently a Director of Avigilon Corp., a TSX listed company. Fred is a Fellow Chartered Professional Accountant (FCPA, FCA) and holds a Bachelor of Commerce from the UBC Sauder School of Business.

Hayley Woodin

Hayley Woodin is the Editor-in-Chief of Business in Vancouver Media Group, a division of the largest business news group in Western Canada. She is a North American correspondent for BBC Radio's Business Matters program, an Overseas Press Club Foundation Scholar, a Pulitzer Travelling Fellow, a Pulitzer Center Fellow and a Gumshoe Reporting Fellow. In 2022, Hayley graduated at the top of Columbia University's Graduate School of Journalism class, as valedictorian, with a master's of science degree (honours) in journalism. She has more than a decade of experience working in media relations, communications and journalism. Hayley is a regular speaker, emcee and moderator at corporate and community events. She is a proud board director of the Royal Columbian Hospital Foundation, Kwantlen Polytechnic University Alumni Association and White Rock Youth Ambassador Program Society, and chair of KPU's journalism program advisory committee.
Thank you for your interest
Thank you for your interest in Royal Columbian Hospital Foundation. The Foundation is proud to be Great Place to Work Certified™ by Great Place to Work Canada.
You can review our current employment opportunities below. For career opportunity inquiries, please contact career@rchfoundation.com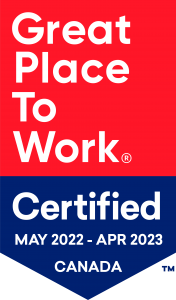 Current opportunities
Development Officer, Leadership and Legacy Giving

DEPARTMENT:      Leadership and Legacy Giving, Philanthropy

REPORTS TO:         Director, Leadership and Legacy Giving

Joining a team of passionate, collaborative fundraisers supporting one of BC's leading critical care hospitals, the Development Officer, Leadership and Legacy Giving will be focused on securing major and planned gifts to Royal Columbian Hospital Foundation.

This role will cultivate, solicit and steward an established portfolio of 125-150 leadership and planned giving donors and prospects through face-to-face meetings, phone calls, emails, and stewardship opportunities. In addition, the incumbent will proactively identify and qualify new prospects.

The Development Officer, Leadership and Legacy Giving will develop and maintain long-term, trust-based relationships with potential and existing donors that support the donors' vision for current and future philanthropic giving. The development officer will take a donor-centered approach to understanding donor values, intentions, and goals in order to deliver the highest level of service to donors.

KEY AREAS OF INVOLEMENT:

Manage an established portfolio of major and planned giving donors, with a focus on deepening personal relationships through face-to-face encounters
Identify and qualifying major and planned gift prospects
Develop and implementing strategies for the identification, cultivation, solicitation and stewardship of major and planned gift donors
Collaborate with other team members on donor-centered strategies for optimal giving
Perform other duties as required by the organization

QUALIFICATIONS

CFRE designation and/or university degree with three years minimum experience or an equivalent combination of education and experience in fundraising or a related industry (e.g. banking, wealth management, etc.). Experience in a health care environment and with capital campaigns is an asset.

To view the full description please click here.

Development Coordinator, Campaign

DEPARTMENT:      Philanthropy

REPORTS TO:         Manager, Campaign

Joining a team of passionate, collaborative fundraisers supporting one of BC's leading critical care hospitals, the Development Coordinator, Campaign will play an instrumental role in administrative activities related to Royal Columbian Hospital Foundation's redevelopment campaign.

Working with the Manager, Campaign, the coordinator will be responsible for ensuring our fundraisers and volunteer campaign cabinet members have the resources they need for identifying, cultivating, and soliciting major gifts.

This position will also provide administrative support to other members of the Philanthropy team, including data entry, event logistics, stewardship activities, and calendar management.

KEY AREAS OF INVOLEMENT

The Development Coordinator, Campaign will:

Research and create prospect profiles
Collect and track financial and donor data
Create reports for campaign metrics
Draft briefing notes, meeting agendas and manage meeting calendars
Take minutes and document actions
Support Philanthropy events
Accurately capture donor activity using the moves management cycle in the Foundation's CRM database (Raiser's Edge/NXT)
In collaboration with our hospital partners, provide accurate reporting for our donor-specified funds
Accurately track and create reporting for donor recognition within the hospital
In collaboration with the Engagement team, provide content for our monthly campaign cabinet e-newsletter
In collaboration with the fundraisers and our preferred vendor, accurately track and schedule the installation of our donor monthly billboards
Provide front desk coverage for the Foundation office as required
Perform other duties as required by the organization.

QUALIFICATIONS

A university degree with two years minimum experience or an equivalent combination of education and experience in fundraising or a related industry (e.g. banking, wealth management, etc.). Experience in a health care environment and with capital campaigns is an asset.

To view the full description please click here.