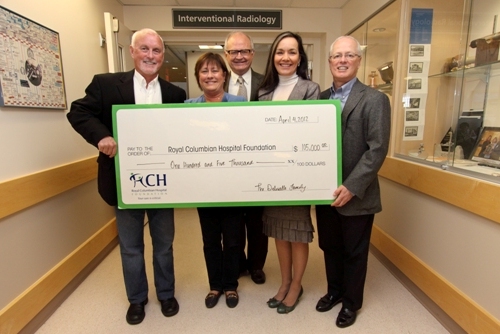 (From left) Delesalle family members Pat, Kathy and husband Dr. Tom Barnett, Karen and husband Tim, present a $105,000 donation to RCH Foundation for the Multipurpose Interventional Suite campaign. This cumulative gift from the Delesalle family will be used to help fund an expansion of cardiac care services at RCH, a cause that is close to the heart of former RCH patient Tim Delesalle, who received life-saving treatment in 2010 by RCH Cardiologist Dr. Jean-Francois Dorval.
Tim, a healthy, active 57 years, had an unexpected acute heart attack in May 2010. He had just returned from a run, when he collapsed at home.
"The angels all lined up for me perfectly that day. From my family, to the paramedics, to Dr. Jean-Francois Dorval and the staff at RCH," recalls Tim.
Tim was transported to RCH, where Dr. Dorval discovered that one of Tim's coronary arteries was completely blocked. Dr. Dorval performed an angioplasty that quickly opened the artery through the use of a catheter, balloon and stents, restoring blood flow to the heart muscle. With the blood flow restored and the heart function stabilized, Tim's condition began to improve. Today, Tim's heart has fully recovered and his life has returned to normal.
Tim is one of the more than 2,400 patients who receive life-saving angioplasty treatments each year at RCH, the referral heart centre for the Fraser Health region. Although one of five heart centres in the province, RCH provides one-third of all angioplasties in B.C.; however, RCH cannot keep up with the increasing demand for specialized cardiac services.
"Medical technology is constantly improving and evolving. We need help in our drive to build a state-of-the-art suite with specialized instruments for cardiac and vascular interventions so that others may some day benefit as the Delesalle family has," states Dr. Dorval.