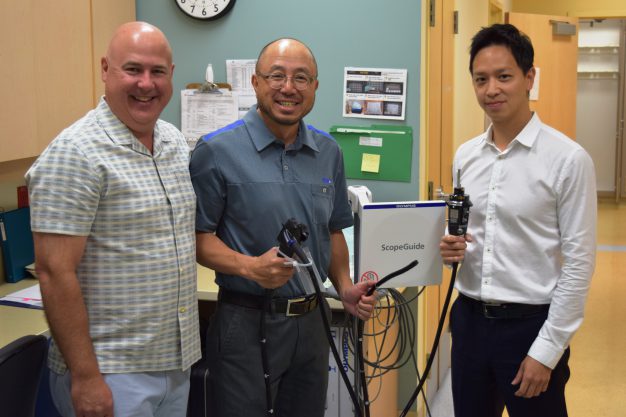 An entrepreneur with a passion for technology that delivers outstanding images has helped bring better vision to a group of health care professionals at Royal Columbian Hospital.
A $20,000 donation from the Jack and Sylvia Gin Foundation has allowed Royal Columbian Hospital Foundation to purchase new equipment for the hospital's Gastroenterology department.
ScopeGuide technology makes colonoscopies easier and more comfortable by giving the G.I. Clinic team a precise 3-dimensional view of the scope's positioning during patient exams. A $10,000 donation from the Drive for the Cure Foundation also supported the purchase of the ScopeGuide. Royal Columbian became the first hospital in the health region to have access to the technology and is now using it regularly.
"Our new scope guides have allowed our patients access to the latest technology," notes Royal Columbian Hospital gastroenterologist Dr. Ken Atkinson. "This maximizes patient comfort, improves efficiency and improves outcomes. It's also used to teach resident doctors colonoscopy techniques, which helps create a more memorable learning experience at Royal Columbian Hospital."
Specializing in surveillance imaging, Jack Gin is the founder and former CEO of Extreme CCTV, which was sold in 2008. The Jack and Sylvia Gin Foundation focuses on causes related to women, children, education and health.
"It has been a satisfying experience working with Royal Columbian Hospital Foundation," says Jack Gin. "I was able to connect directly with the hospital and learn how this technology tool would make for easier, faster and safer colonoscopy procedures. On my recent tour of the hospital, doctors and nurses remarked on how much they appreciate the new ScopeGuide. Their words reminded me that we need to continue to equip our medical teams with the best available tools."
Photo (from left to right): Jack Gin (middle) is joined by Dr. Ken Atkinson and Dr. Justin Cheung with the ScopeGuide which the Jack and Sylvia Gin Foundation helped to purchase with a $20,000 donation.