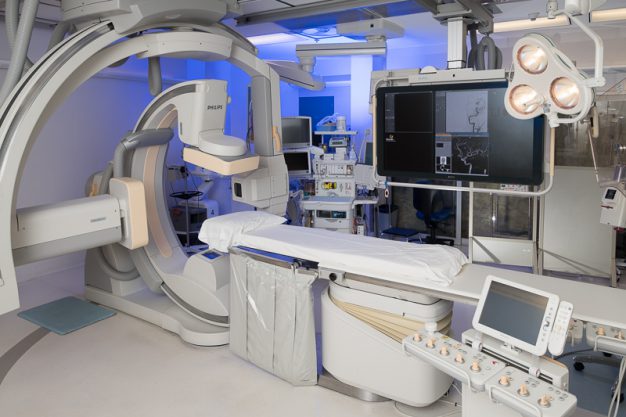 Via Fraser Health news release – In a major step toward establishing Royal Columbian Hospital as a comprehensive stroke centre, Fraser Health is now providing centralized support for stroke patients with the implementation of a 24/7 Regional Acute Stroke Team. Stroke is the fourth-highest cause of death and the number one cause of acquired long-term disability in adult British Columbians.
"Our long-term plan to establish Royal Columbian Hospital as a comprehensive stroke centre means Fraser Health patients will receive services as close to home as possible, easing the strain on patients and their families as they work toward a full recovery," said Fraser Health president and CEO Michael Marchbank.
As part of the program, Surrey Memorial Hospital will now transfer all hyper acute stroke patients directly by ambulance to Royal Columbian Hospital for treatment. This means more patients will receive life-saving services in Fraser Health rather than out-of-region at Vancouver General Hospital. A soft launch of the program began last year with Surrey Memorial Hospital transferring 12 hyper acute patients to Royal Columbian Hospital and 68 to Vancouver General Hospital within a 10-month period. Now, all Surrey Memorial Hospital patients who require hyper acute stroke care will be transferred to Royal Columbian Hospital.
The Regional Acute Stroke Team will deliver life-saving emergency treatment to patients who have experienced a hyper acute stroke. When the program is fully implemented, all Fraser Health patients requiring hyper acute stroke care will have access to the Regional Acute Stroke Team at Royal Columbian Hospital. Royal Columbian Hospital is well positioned to provide this care as it also delivers the highly specialized endovascular-neuroradiology service, which is also important for patients who have experienced a stroke.
"Suffering a stroke can be a devastating, life-changing experience for a person. Immediate treatment for a stroke followed by care in an acute stroke unit in hospital reduces the likelihood of death and disability by as much as 30 percent and is effective in preventing stroke complications and recurrence, accelerating mobilization and providing early rehabilitation therapy," said Fraser Health neurologist and regional medical director Dr. John Diggle.
The program will also facilitate rapid, collaborative care including a Hot Stroke Pager service for physicians who suspect their patient may have experienced a stroke or transient ischemic attack (TIA), a related condition. Within 15 minutes, a Royal Columbian Hospital-based stroke neurologist will confer with the physician by phone to discuss symptoms and the current investigation followed by the development of an immediate short-term plan to ensure the patient receives the appropriate level of care.
In addition to providing hyper acute stroke care, the Regional Acute Stroke Team will provide stroke education, ensure optimal secondary stroke prevention therapies are initiated in hospital and act as a liaison with family physicians. Upon discharge from hospital, the team will follow-up with clients to ensure they are complying with stroke prevention strategies and if necessary, transfer a client to rehabilitation services.
Related: Gurcharan Dhindsa's Story