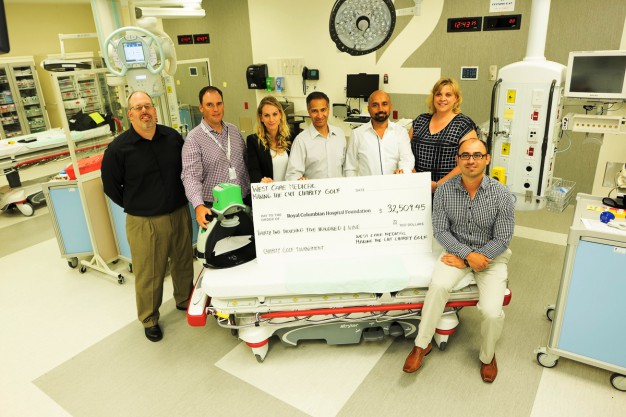 Volunteers led by Royal Columbian Hospital anesthesiologist Dr. Feisal Mohamedali have wrapped up a record-breaking year for the annual Making the Cut Charity Golf Classic. The fundraiser, with title sponsor West Care Medical, raised more than $32,000 to help Royal Columbian Hospital Foundation purchase medical equipment.
As the group was putting the finishing touches on the June 13th tournament, critically injured patients at Royal Columbian were beginning to benefit from a new piece of equipment purchased with money raised during last year's event. The Belmont Rapid Infuser can be a lifesaver for patients who are rushed to Royal Columbian Hospital, having suffered massive blood loss. And soon, the hospital will add another critical piece of equipment, courtesy of this year's amount.
In its three years, Making the Cut has earned close to $80,000 for the hospital's equipment needs. Visit www.makingthecutgolf.com for details on registration and sponsorship.
From left to right: Brett Pavan of Loren Nancke & Company, RCH Foundation President and CEO Jeff Norris, RCH Foundation Campaign Associate Sascha Nieland, RCH anesthesiologist Dr. Feisal Mohamedali, Sabi Bining of West Care Medical, and Lorene Froescul & Stephen Balliet of RCH Medical Imaging.