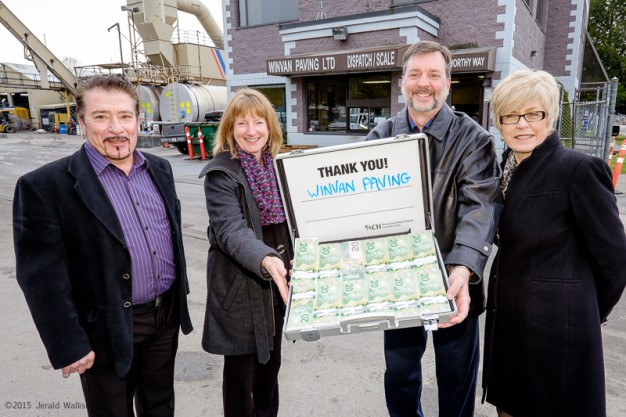 A road building contractor with a history of supporting Royal Columbian Hospital will help monitor, diagnose and treat newborns with its latest donation.
Winvan Paving has made a $15,000 contribution towards an ultrasound machine for the neonatal intensive care unit. The gift is part of a $65,000 pledge by Winvan to purchase the equipment.
The ultrasound provides quick and accurate information to help the neonatal team deliver life-saving care to the hospital's smallest and most fragile patients.
Winvan Paving, with its headquarters in New Westminster and whose controlling interest has been with the Weismiller family for more than 30 years, has been a proud supporter or Royal Columbian Hospital Foundation since 1998.
Caption: Winvan Paving representatives Franco Pastro, Carol Weismiller and Stan Weismiller celebrate the company's latest donation with Royal Columbian Hospital Foundation's Barbara Becker.