Fifth annual sold-out gala fundraising event exceeds fundraising target, raising $164,000 for RCH to expand specialized care for cardiac and stroke patients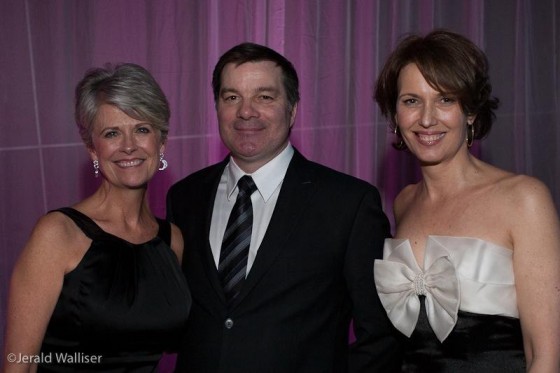 View our SHINE photo gallery  |  View our SHINE video gallery
New Westminster, B.C. – March 9, 2012
Donors, physicians, corporate executives and community leaders shared the spotlight last night when Royal Columbian Hospital (RCH) Foundation hosted its sold-out SHINE Gala and celebrated the hospital's 150th anniversary at the Sheraton Vancouver Wall Centre.
"This year we shine a light on RCH for trailblazing 150 years of medical excellence," states Adrienne Bakker, RCH Foundation President and CEO. "And for as long as RCH has been standing, from the first little house built on the hill, to the world-class hospital it is today, we have been fundraising and will continue to fundraise to help RCH provide the best in health care."
In one evening, 460 guests helped RCH Foundation exceed its fundraising target for the event, raising $164,000 net towards a Multipurpose Interventional Suite at RCH which will expand specialized care for cardiac, stroke and aneurysm patients.
SHINE Gala Honourary Co-chair Tim Delesalle, also a cardiac patient and RCH Foundation donor, shared a personal appeal to guests: "Beyond all odds….these very talented physicians, nurses and technicians can perform miracles….. IF they have the right resources available to them… I am living proof of this."
Highlights of the evening included a surprise rendition of "The Prayer" by RCH Cardiologist and professionally trained vocalist Dr. Jean-Francois Dorval in honour of his patient and honourary co-chair Tim Delesalle and wife, Karen, as well as an announcement of a $50,000 donation from Surrey-based legal firm, McQuarrie Hunter LLP.
Asked for McQuarrie Hunter's reason to give, partner and SHINE Gala co-chair Wade Winkler said: "Most of our clients, contacts, lawyers and staff live well within reach of Royal Columbian and our firm was first established in New Westminster, so we have a meaningful connection in the entire region."
The event also featured the smooth sounds of The Night Crawlers, and a stunning boutique of silent auction items, including a Wall of Wine, filled with more than 90 fine bottles of wine donated by RCH physicians and staff.
Burnaby Firefighters Charitable Society also showed their support by renewing their title sponsorship this year. "As firefighters, we see patients that are taken to emergency on a daily basis," said Burnaby Firefighters Charitable Society President Rob Lamoureux. "We are in awe of the team at RCH who never miss a beat when it comes to saving the lives of critically ill patients.
"As we've all seen in the news during the past year, clearly the Royal Columbian Hospital team knows how to deliver the best in patient care despite the incredible challenges they face," said CBC News Vancouver host and SHINE Gala emcee, Gloria Macarenko.
Stephen Quinn, host of CBC Radio One's "On The Coast" and gala co-emcee agrees. "I am proud to have been a part of Royal Columbian Hospital's 150th anniversary; to celebrate the legacy of excellent care that patients receive every day. Funds raised at SHINE will continue to build the hospital's capabilities, particularly for the care of cardiac and stroke patients."

About Royal Columbian Hospital
Centre of Excellence since 1862: British Columbia's first hospital
Royal Columbian Hospital is a provincial and regional referral hospital providing specialized care for trauma, cardiac services, neurosciences, high-risk maternity and neonatal intensive care for 1.6 million seriously ill and injured people from Fraser Health, the Lower Mainland and across the province. RCH is also a provincial teaching hospital with a UBC Clinical Academic Campus onsite.

About Royal Columbian Hospital Foundation
Royal Columbian Hospital Foundation is an independent charitable organization that raises millions of dollars annually to help fund priority equipment needs, facility enhancements, research and education at RCH.  For more information about Royal Columbian Hospital Foundation, please visit www.rchcares.com
-30-
For more information, please contact:
Shannon Henderson
Communications Specialist, Royal Columbian Hospital Foundation
T: 604-520-4438
shannon.henderson@fraserhealth.ca
Julie Coghlan
Communications Specialist, Royal Columbian Hospital Foundation
T: 604-523-8860
Julie.coghlan@fraserhealth.ca