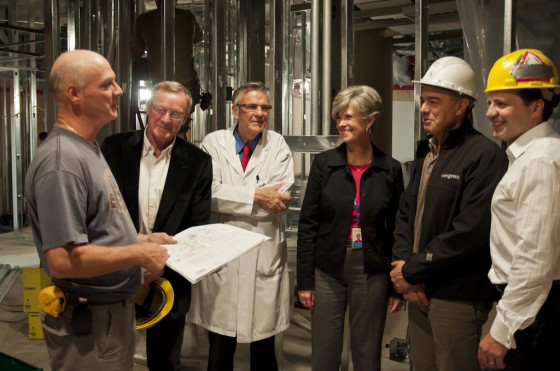 (From left) Louis Bouchard of Rogad Construction Co. shares the plans for RCH's new Multipurpose Interventional Suite with David Worthington, RCH Foundation Board member; Dr. Jorge Bonet, RCH's Head of Cardiology and Electrophysiology; Adrienne Bakker, RCH Foundation president and CEO; Gino Nonni, president of Wesgroup Properties; and John Conicella, vice-president of Business Development for Wesgroup Properties.
New Westminster, B.C. – November 22, 2011 – Royal Columbian Hospital Foundation is $2 million closer to helping fund an expansion of cardiac, stroke and aneurysm care at Royal Columbian Hospital, Adrienne Bakker,RCH Foundation President and CEO announced today.
In partnership with Fraser Health, Royal Columbian Hospital Foundation is raising $2.8 million towards the building of a $5.3 million Multipurpose Interventional Suite that will expand care for 1,400 more cardiac, stroke and aneurysm patients per year at RCH. The suite will help relieve some of the strain on RCH while awaiting government approval on expansion and redevelopment plans for the site.
RCH provides one-third of all minimally invasive heart procedures in B.C. However, the hospital cannot keep up with the increasing demand for specialized cardiac services, and often must refer patients for care outside of the region.
"Cardiac, stroke and aneurysm patients are going to get the specialized care they need closer to home thanks to the generous contributions of RCH Foundation's donors in partnership with Fraser Health," says Bakker. "Grateful patients, corporate and community leaders are donating to this campaign because they recognize their support can help transform cardiovascular disease from something that is deadly into something that is treatable."
Gino Nonni, President of Wesgroup Properties, is one such donor who recognizes the need to build RCH's capacity: "Wesgroup is proud to be associated with Royal Columbian Hospital and to support their new cardiac and stroke treatment facility," he says.
"I've learned first-hand about some of the life-saving procedures that will be performed there, and I'm truly amazed at what the medical staff can do to assist patients throughout Fraser Health."
 Members of the Buddhist Compassion Relief Tzu Chi Foundation of Canada have also come forward with a $30,000 gift towards the suite: "Tzu Chi Foundation Burnaby Team decided to donate to RCH when they realized that the hospital might be the busiest one in Fraser Health and doesn't have capacity to respond to the growing demand in critical health care," said Tzu Chi Foundation Volunteer Mei Luen Kuo.
RCH Foundationneeds to raise $700,000 more to reach its campaign goal of $2.8 million by spring, 2012.  To donate to the campaign or for more information, visit rchfoundation.com or call 604.520.4438.
Centre of Excellence since 1862: British Columbia's first hospital
Royal Columbian Hospital is a provincial and regional referral hospital providing specialized care for trauma, cardiac services, neurosciences, high-risk maternity and neonatal intensive care for 1.6 million seriously ill and injured people from Fraser Health, the Lower Mainland and across the province. RCH is also a provincial teaching hospital with a UBC Clinical Academic Campus onsite.
Raising funds since 1978
Royal Columbian Hospital Foundation is a provincial and regional independent charitable foundation that raises millions of dollars annually to help fund priority equipment needs, facility enhancements, research, education and innovation at RCH. For more information aboutRoyal Columbian Hospital Foundation, visit www.rchfoundation.com or contact us on 604 520 4438.
-30-
Shannon Henderson
Communications Specialist
Royal Columbian Hospital Foundation
Direct: 604 520 4809
Mobile: 604 614 8155
shannon.henderson@fraserhealth.ca
www.rchfoundation.com