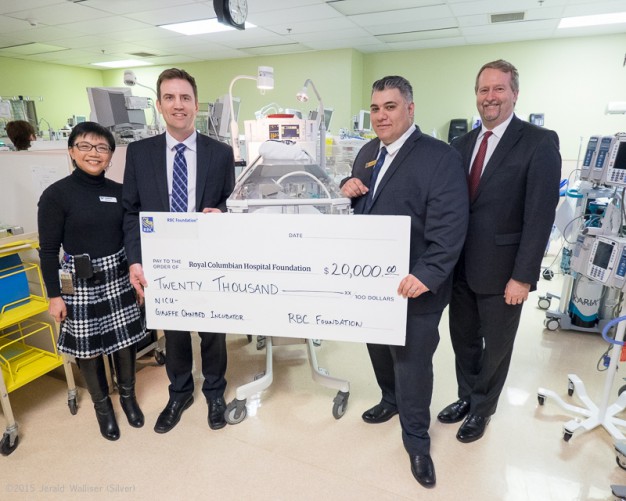 A $20,000 donation to Royal Columbian Hospital Foundation will help provide the right environment for premature babies to get stronger and healthier.
The gift from RBC Foundation will go towards the purchase of a Giraffe Omnibed incubator. This high-tech incubator provides an ideal, stable microenvironment to promote healthy growth in these vulnerable patients.
As one of four Level 3 neonatal intensive care units in the province, Royal Columbian Hospital cares for hundreds of the smallest and most fragile newborns each year from throughout BC.
RBC has a history of giving to Royal Columbian Hospital that dates back more than 25 years, totalling close to $280,000 in that time.
Caption: RBC representatives Keith Richmond (2nd from left) and Peter Zivanovic (3rd from left) present a $20,000 donation to Royal Columbian Hospital neonatal intensive care unit manager Queenie Lai and Royal Columbian Hospital Foundation Chair Doug Eveneshen.