Donors, physicians and patients celebrate the spirit of Royal Columbian at sixth annual fundraising event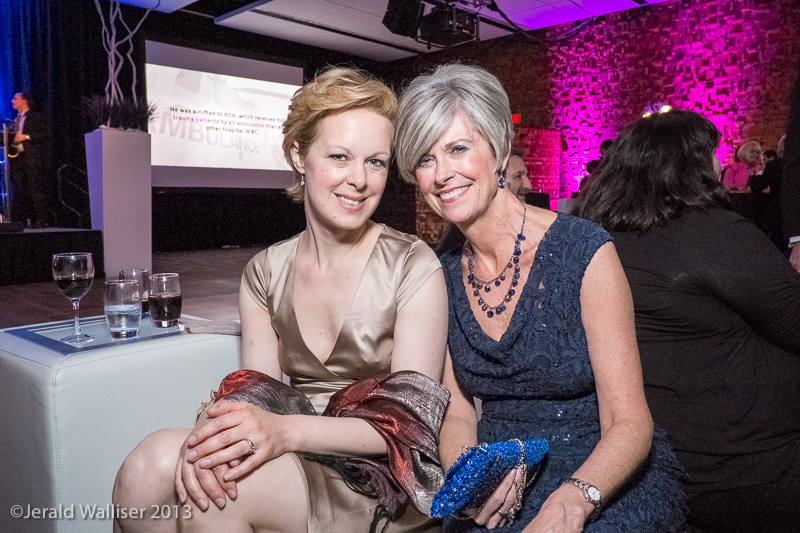 New Westminster, B.C. — March 29, 2013
More than 400 guests shared the spotlight last night when Royal Columbian Hospital (RCH) Foundation hosted its SHINE Gala at the Vancouver Convention Centre, raising $280,000.
Funds raised through the Foundation's sixth annual event will support the work of RCH Foundation in helping RCH care for seriously ill and injured patients from across British Columbia. Patients like Shannon Gaudette of Abbotsford.
Gaudette, 41, was six-and-a-half months pregnant when she had two malignant tumours—one the size of an orange, the other the size of a lemon—removed from her brain at RCH. Gaudette was treated at RCH because it is the only hospital in B.C. that can provide neurosurgery, high-risk maternity and neonatal intensive care all on one site.
Shannon and her husband, Brad, joined several other patients and RCH staff members in the room to share their reasons to care and reasons to give to RCH.
Special guest, the Honourable Dr. Margaret MacDiarmid, Minister of Health, also shared her gratitude for RCH's expertise in caring for her rare and serious meningitis infection in November 2009. Following her story, she reaffirmed the Ministry of Health's commitment to the redevelopment of Royal Columbian Hospital, and prioritized the rebuild of the ailing Sherbrooke Building which houses Mental Health and Substance Use Services and patients.
"It is amazing to see what we can accomplish together," said Adrienne Bakker, RCH Foundation President and CEO, addressing the many donors and sponsors in the room, including firefighters representing title sponsor, the Burnaby Firefighters Charitable Society, and staff of Winvan Paving Ltd. and Mainland Sand and Gravel Ltd. I know we can rely on the staff at Royal Columbian to give of their best, and they know we can rely on you to support them."
Emceed by CBC Radio One's "On The Coast" team, Stephen Quinn, Host, and Lisa Christiansen, Traffic and Arts Reporter, the event featured a jewel-studded live and silent auction, and late-night dancing courtesy of Jesse Cahill's NightCrawlers and special guest Jim Byrnes.

About Royal Columbian Hospital
Centre of Excellence since 1862: British Columbia's first hospital
Royal Columbian Hospital is a provincial and regional referral hospital providing specialized care for trauma, cardiac and neurosciences, high-risk maternity and neonatal intensive care for 1.7 million seriously ill and injured people from Fraser Health, the Lower Mainland and across the province. RCH is also a provincial teaching hospital with a UBC Clinical Academic Campus onsite.

About Royal Columbian Hospital Foundation
Royal Columbian Hospital Foundation is an independent charitable organization that raises millions of dollars annually to help fund priority equipment needs, facility enhancements, research, innovation and education at RCH.  For more information about Royal Columbian Hospital Foundation, please visit www.rchcares.com.

-30-
For more information, please contact:
Shannon Henderson
Communications Specialist
Direct: 604.520.4438
Cell: 604.614.8155
shannon.henderson@fraserhealth.ca

Julie Coghlan
Communications Specialist
Direct: 604.523.8860
Cell: 778.996.4092
julie.coghlan@fraserhealth.ca