Last winter, we asked our donors to support two urgently needed pieces of equipment for Royal Columbian Hospital (RCH)—a jet ventilator for our Variety Neonatal Intensive Care Unit, (NICU) and an electrocardiogram cart for diagnostic cardiology. We are thrilled to let you know that thanks to your generosity, we have been able to purchase both pieces of equipment.
Because premature infants have underdeveloped lungs, the jet ventilator is a critical piece of equipment for helping them breathe. And because it is gentler than other means of mechanical ventilation, it reduces the risk of lung trauma. It will mean better long-term outcomes for the infants in our care, and less time in hospital. In many cases, it will mean saving the life of a baby that would not survive without this piece of equipment.
"I have seen first-hand the remarkable improvement of babies once they are put on a jet ventilator. We are so grateful to have this piece of equipment in our NICU."

—Queenie Lai, Manager, RCH NICU
The new electrocardiogram cart, used for electrocardiogram testing where electrodes are placed on the patient's body to measure the electrical activity of the heart, will help RCH become compatible with the new MUSE Cardiology Information System currently being implemented across Fraser Health. MUSE will enable sites to securely share patient ECG information. This will mean faster diagnosis and treatment, and testing closer to home for patients.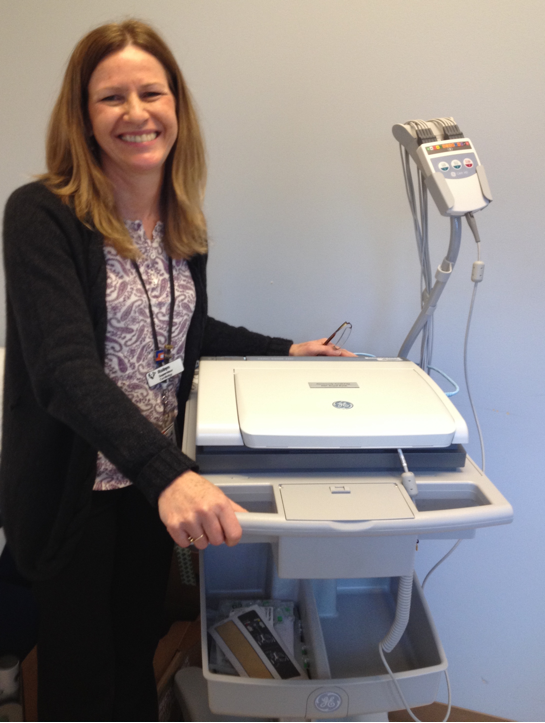 "With the MUSE system, an RCH physician could see a Burnaby Hospital patient's ECG before they were transferred to RCH, and a patient in Langley could get their pre-op ECG done at Langley Memorial before they came to RCH for a pacemaker implantation. It will truly transform cardiac care."
—Robyn Brinkac, Supervisor Diagnostic Cardiology, RCH

A sincere thank you for supporting these much-needed, lifesaving pieces of equipment.
Laurie Tetarenko
Interim President & CEO