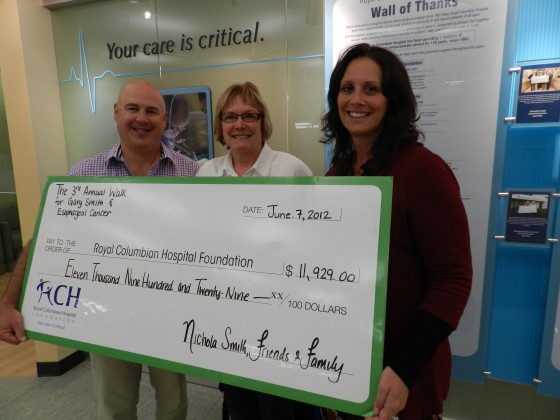 Coquitlam resident Nichola Smith (centre), widow of esophageal cancer victim Gary Smith, presents Dr. Kenneth Atkinson, head of Gastroenterology at Royal Columbian Hospital (RCH), and Kandi Kozler of RCH Foundation, with a cheque for $11, 924, raised from the third annual Gary's Walk event. The funds will help RCH purchase a gastroscope, a thin, flexible fibre-optic instrument that is passed through the mouth and allows the doctor to see whether there is any damage to the lining of the esophagus or stomach.
Gary Smith was a high school principal and basketball coach who suffered from chronic heartburn and remedied it with non-prescription antacids for more than a decade. In December 2005, Gary started suffering from back pain, a symptom that would be diagnosed as esophageal cancer four months later at Royal Columbian Hospital. Like many patients with the disease, it was discovered too late andGary, age 60, passed away in September 2007.
Royal Columbian Hospital is the tertiary care referral centre for the diagnosis and treatment of gastrointestinal disorders in the Fraser Health region, which serves 1.6 million people.
For more information about Gary's Walk and the work Gary's family is doing to generate awareness about esophageal cancer, visit garyswalk.ca.

-30-
For more information, please contact:
Shannon Henderson
Communications Specialist
604.520.4438
shannon.henderson@fraserhealth.ca