Developer of New Westminster's Brewery District donates surprise gift of $35,000 to RCH Foundation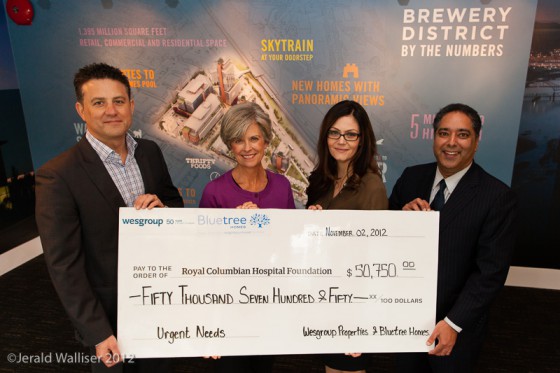 New Westminster, B.C. — November 5, 2012
Only a few months after committing to a donation of $80,000 in support of Royal Columbian Hospital (RCH), Wesgroup Properties and Bluetree Homes have donated a surprise gift of $35,000 towards RCH Foundation's "150 Reasons to Give" campaign.
"When we first joined this community, we were amazed to discover the highly specialized care and support RCH staff provides to its patients, and the region the hospital serves," says Peeter Wesik, President of Wesgroup Properties. "Wesgroup is proud to be able to support RCH and the Foundation, as its impact is felt by everyone. This hospital is a very important part of making our community 'work', so both Wesgroup and Bluetree Homes are absolutely committed to supporting it."
"Their generosity is just overflowing," says RCH Foundation President and CEO Adrienne Bakker. "Wesgroup Properties and Bluetree Homes have been two of the best neighbours anyone could ever hope to have. They certainly know how to build a community of care and we truly value their partnership as we move forward with the redevelopment of Royal Columbian Hospital."
Wesgroup Properties and Bluetree Homes were already significant sponsors of RCH's "150 Reasons to Give" campaign radio promotion on CKNW AM 980, giving $15,750 in support of the campaign, when they chose to make the additional $35,000 gift.
The redevelopment of RCH and the development of the new Brewery District community are exciting changes coming to Sapperton and New Westminster.
To learn more about the Brewery District project, visit the Discovery Centre at 208 East Columbia Street (next to Thrifty Foods), or visit us online at brewerydistrict.ca

About Royal Columbian Hospital
Centre of Excellence since 1862: British Columbia's first hospital
Royal Columbian Hospital is a Fraser Health provincial centre and regional referral hospital providing specialized care for trauma, cardiac services, neurosciences, high risk maternity and neonatal intensive care for 1.6 million seriously ill and injured people from across the province. RCH is also a UBC teaching hospital with a Clinical Academic Campus.

Raising Funds
Royal Columbian Hospital Foundation (RCHF) is a provincial and regional independent charitable foundation that raises millions of dollars annually to help fund priority equipment needs, facility enhancements, research, education and innovation at RCH. For more information about Royal Columbian Hospital Foundation, visit rchcares.com or contact us on 604.520.4438.

– 30 –
For more information, please contact:
Shannon Henderson
Manager, Marketing & Communications
604.520.4809
shannon.henderson@fraserhealth.ca

Amanda McDougall
Group Marketing + Communications
Wesgroup Properties
604.648.1792
amcdougall@wesgroup.ca