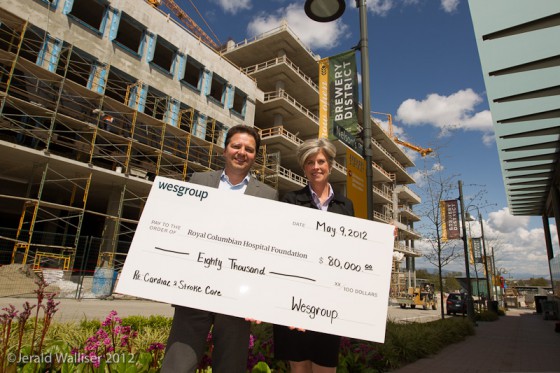 John Conicella, Wesgroup Properties Vice-president, Development Strategy and Business Development, presents Royal Columbian Hospital Foundation President and CEO Adrienne Bakker with a cheque for $80,000 at entrance to the Brewery District in New Westminster. The funds will help Royal Columbian Hospital build a new Multipurpose Interventional Suite that will expand cardiac, stroke and aneurysm care at the hospital.
New Westminster, B.C. –June 26, 2012 –Wesgroup Properties, developer of the Brewery District in New Westminster, has donated $80,000 to Royal Columbian Hospital (RCH) Foundation in support of the Foundation's $2.8 million Multipurpose Interventional Suite campaign.
The suite will provide an expansion of specialized services for the diagnoses and treatment of heart disease and stroke — two of the three leading causes of death in Canada – and brain aneurysms.
Since 2006, Wesgroup Properties has donated more than $190,000 in support of RCH. Wesgroup donated $60,000 towards the Foundation's Heart to Heart Campaign in 2007 that helped fund a state-of-the-art Cardiac Surgery Intensive Care Unit and additional equipment for diagnostics and treatment, which enabled RCH to care for more cardiac patients.
"Wesgroup Properties is one of the best neighbours anyone could ever have," says Adrienne Bakker, President and CEO ofRCH Foundation. "Not only have they generously donated in support of cardiac services at Royal Columbian Hospital during the past five years, they are developing a community of care in the new Brewery District by raising awareness about RCH as a centre of health care excellence and helping RCH build relationships with other philanthropic leaders in the community."
"We are proud to support the important and life-saving work that the Royal Columbian Hospital provides to all of us here in Metro Vancouver," says John Conicella, Vice-president, Development Strategy and Business Development. "We are proud to be a part of this community and to be partnering with theRCH Foundationin helping the hospital deliver the best care possible for residents here and throughout the region."
Royal Columbian Hospital – Centre of excellence
Royal Columbian Hospital is a Fraser Health provincial centre and regional referral hospital providing specialized care for trauma, cardiac services, neurosciences, high risk maternity and neonatal intensive care for 1.6 million seriously ill and injured people from across the province. RCH is also a UBC teaching hospital with a Clinical Academic Campus.
Royal Columbian Hospital Foundation – Raising funds
Royal Columbian Hospital Foundation (RCHF) is a provincial and regional independent charitable foundation that raises millions of dollars annually to help fund priority equipment needs, facility enhancements, research, education and innovation at RCH. For more information, visit rchcares.com or call 604 520 4438.
Wesgroup Properties
One of Western Canada's largest private real estate companies, Wesgroup Properties is a family-owned company based in Vancouver that specializes in the acquisition, development and management of health, retail, commercial, industrial and residential properties for the long term. Visit wesgroup.ca and brewerydistrict.ca for more information.
– 30 –
For more information, please contact:
Shannon Henderson
Communications Specialist
(604) 520-4438
shannon.henderson@fraserhealth.ca
Amanda McDougall
Group Marketing+Communications
Wesgroup Properties
(604) 648-1792
amcdougall@wesgroup.ca