"I like working with the students as they are very interested in what they are doing," says rehabilitation patient Maureen Enser.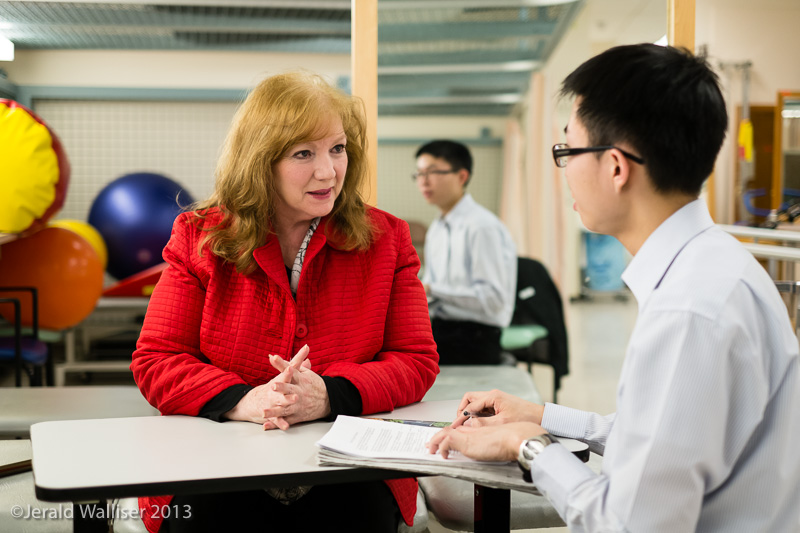 Win-win for both students and rehab patients.
After a career as a leader in BC's booming real estate development industry, Maureen Enser now finds that she is the one being led into new territory.
"I want you to close your eyes and take a deep breath…be aware of any tension you are feeling and relax those areas," coaches Walter Chung, a second-year student of UBC's Occupational Therapy program.
Since suffering a serious concussion in early January 2013, Enser has been recovering her abilities to speak, walk and think clearly. Recently retired as CEO of the Urban Development Institute, Enser is finding it challenging to redevelop abilities she once took for granted.
"Walter's job is to help me regain my independence," says the Port Coquitlam resident.
Chung is one of scores of physical therapy and occupational therapy students who have been fortunate to land a placement at the RCH Student Rehabilitation Outpatient Clinic, perhaps the first of its kind in Canada. Here, the students pretty much run the shop, and have helped hundreds of people in the Fraser Health region grapple with the effects of stroke, bone fractures, hip or knee replacements, or other conditions that hinder their mobility and daily living activities.
The students are closely monitored by a clinical instructor in each field, who must approve the students' initial assessments and treatment plans, and who often assist in the early stages of treatment. Prior to the clinic opening in 2009, there was no outpatient service for patients nearby, so patients would have faced long waiting lists, restrictive eligibility criteria or the need to pay out-of-pocket at a private clinic.
-30-