RESOLVE TO MAKE A DIFFERENCE ALL YEAR LONG
Our monthly and payroll donors help us address the most urgent needs of the hospital as they arise. Become a payroll donor and your regular gift will make all the difference in helping provide exceptional patient care for nearly 2 million British Columbians.
BENEFITS OF PAYROLL GIVING
Set it, forget about it
Donating through payroll is so easy. Just fill in the form once, and you're all set.
Every little bit goes a long way
On average, our payroll donors give $10/month. But the combined contributions of our payroll and monthly donors adds up to more than $100,000 towards life-changing care each year.
You don't have to break the bank
For less than the cost of a movie date, you can make a significant impact. Join our payroll giving program and make a difference year-round.
Sign Up for Payroll Giving
Total contribution will appear on your T4, issued by Fraser Health at the end of the calendar year. You may change or cancel my payroll deduction at any time by contacting the Foundation at 604 520 4438.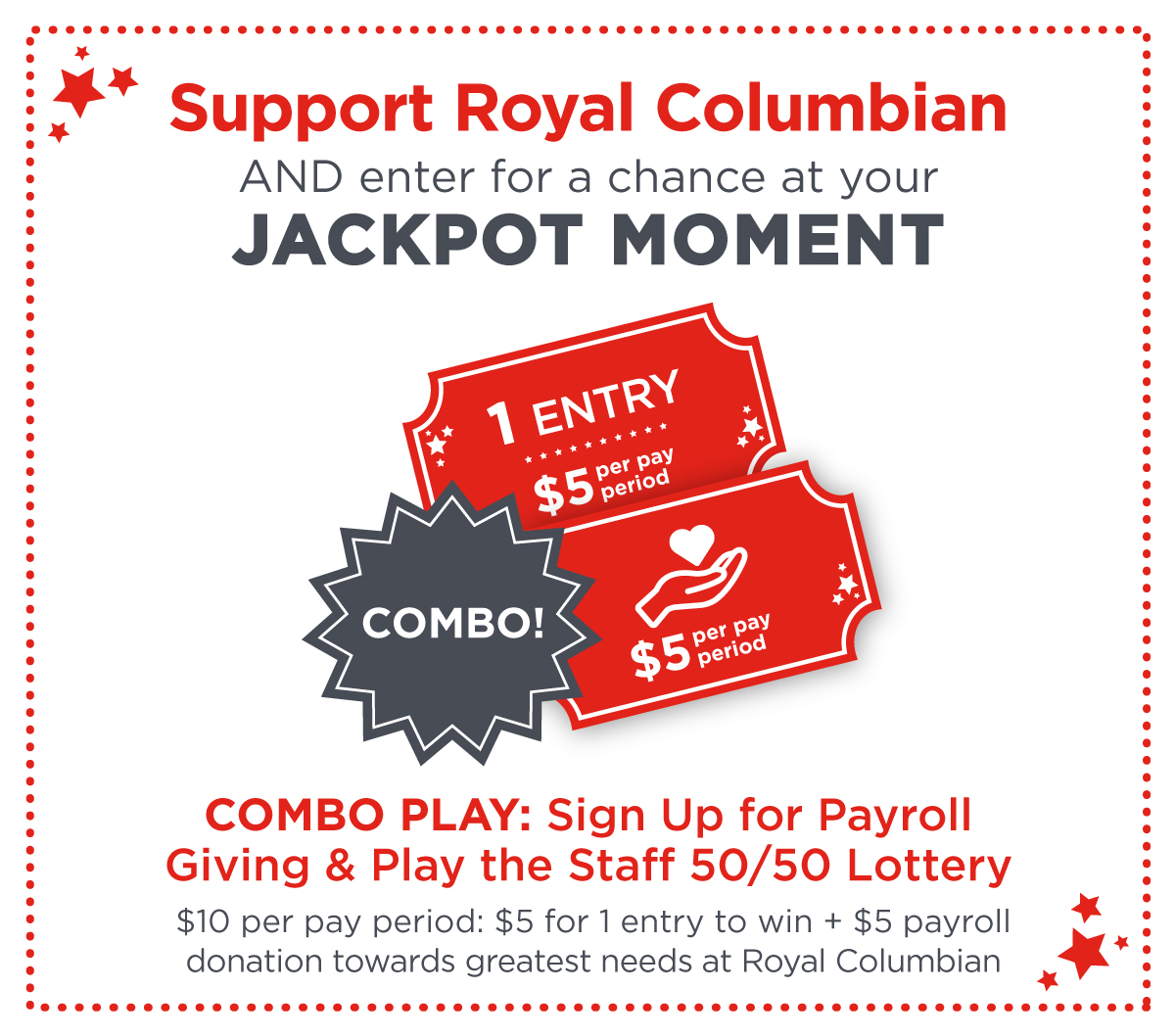 Sign Up for Combo Play
Important Information: As per our BC Gaming Licence, all lottery participants must re-apply every year. Renewal notices start in January, please check your email for your renewal reminder.
Have more questions? Contact Annalissa Magleo at Annalissa.Magleo@fraserhealth.ca or 604.520.4063. Good luck! You can have a say in where 50/50 lottery proceeds are used.
Chances are 1 in 1,884 per draw (total tickets for sale) to win. Actual odds depend on number of tickets sold.
BC Gaming Event Licence #131956
Problem Gambling Help Line: 1-888-795-6111
www.bcresponsiblegambling.ca
19+. Know your limit, play within it.
RULES OF PLAY

To be eligible to enter, you must be 19 years of age and on Fraser Health payroll as a regular full-time, part-time or casual employee.
Complete and submit the form below to pay for your entries by Fraser Health payroll deduction. A report by payroll deductions is provided to RCH Foundation by Fraser Health payroll each pay period. You will only receive an entry in pay periods in which you have earned income. You will not receive entries during unpaid leaves.
Winners must sign a release prior to receiving their cheque.
Ticket purchasers must be 19 years of age or older. If a winning ticket bears a minor's name, the prize will be lawfully delivered on behalf of the minor to the minor's parent, legal guardian or trustee. As a result of each entry having an assigned unique ticket number, there will be no tie or prize split. Tickets are drawn using an approved, licensed random number generator system.
In the case where the draw is delayed, an amendment will be submitted to BC Gaming with a proposed new date. Lottery participants will be notified of the new draw date and time via a livestream announcement on https://www.facebook.com/RoyalColumbian.
Winners will be notified by phone. Prize is in the form of a cheque or electronic transfer. Winner's names and amounts are posted on Site Information Boards located throughout Royal Columbian Hospital. A bi-weekly e-mail announcement with the winner's names and amounts is also sent to all participants who included an email address with their application.
Any inquiries or complaints, please contact Annalissa Magleo at 604-520-4063.
Jeff Palmer – Former cardiac patient, current monthly donor
As one of Canada's busiest cardiac centres, Royal Columbian Hospital provides cardiac care to thousands of patients each year. Jeff Palmer, once one of these patients, now supports the kind of care that saved his life by making a monthly gift.
"Five years ago, I was rushed to Royal Columbian after suffering multiple cardiac arrests while riding in the Cops for Cancer Tour de Coast. The amazing skill of paramedics, Dr. Roger Philipp, Royal Columbian's cath lab team and cardiology ward saved my life. I am forever grateful for good health since, and for the gift last December of walking with my daughter as she married the love of her life." – Jeff Palmer,
Join Jeff and other monthly donors like him in helping to ensure that others have access to exceptional patient care, when they need it most critically.