Generosity has the power to create a ripple effect that can last for generations. As evidence, look no further than a thoughtful philanthropic gift made decades ago that set the course for the growth of cardiac care at Royal Columbian Hospital. Over the past 50 years, heart services at the hospital have expanded to the point that Royal Columbian is now the busiest cardiac centre in BC, and it has become the busiest in Canada for a key, life-saving heart attack treatment.
John Harrison was three months into his retirement when the 62-year-old and his wife Carol left their home on a nice summer morning for a regular bicycle ride in Tsawwassen. The couple approached a big hill with different strategies: Carol took it slow, while John went hard and fast. As Carol pedalled up the hill, she looked up to see that her husband, a fair distance away, was now on the ground.
Jeff Palmer was feeling good on the first day of the annual Cops for Cancer fundraising ride in 2015. The West Vancouver police officer had chatted with students at a Burnaby elementary school before he headed back out on the road with other members of his cycling team. But shortly thereafter, he started feeling lightheaded. Just as he thought about telling nearby paramedics, his heart stopped.
77-year old Valerie Vandervelden felt calm leading up to her scheduled heart procedure. She fully trusted Dr. Albert Chan, the interventional cardiologist who would be providing a drug-free option to lessen her risk of stroke. But as Valerie was brought into the cardiac catheterization lab, the Coquitlam resident was surprised at the large number of people standing by. She soon learned she was about to become part of Royal Columbian history, thanks to donors to Royal Columbian Hospital Foundation.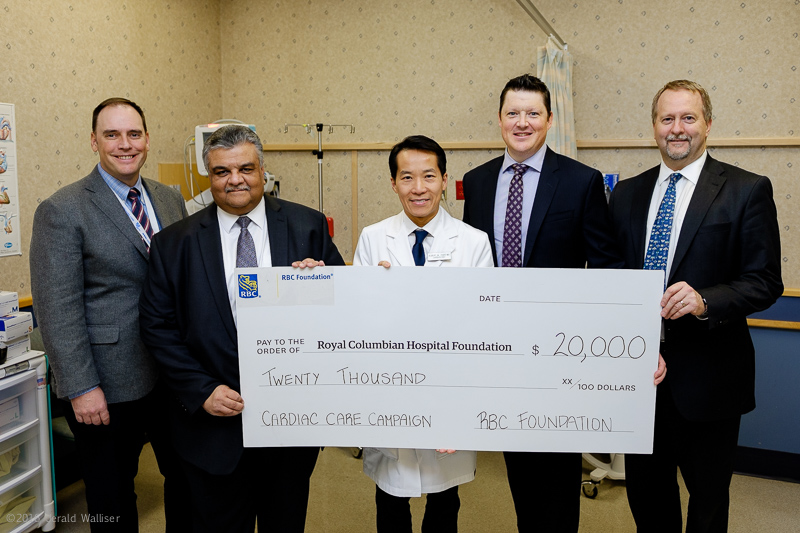 RBC has added its name to Royal Columbian Hospital Foundation's Cardiac Care Campaign.
A $20,000 gift from RBC Foundation will help upgrade the equipment inside the hospital's two cardiac catheterization labs.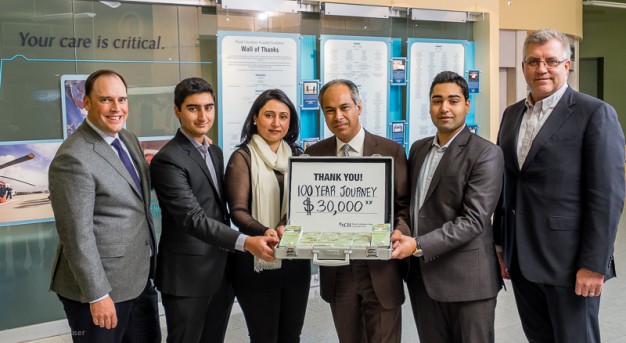 An effort to preserve and share the stories of South Asian pioneers to Canada has also resulted in generous support to BC's busiest cardiac care centre.
Proceeds from the 2nd annual 100 Year Journey gala are included in a $30,000 donation presented to Royal Columbian Hospital Foundation's Cardiac Care Campaign.
The gift to the Foundation will help bring the latest technology and equipment to Royal Columbian Hospital's cardiac catheterization lab – the busiest in the province and serving the entire Fraser Health region.
Various representatives of Royal Columbian Hospital discuss cardiac care during interviews with Shushma Datt on Spice Radio 1200AM.
Royal Columbian Hospital Foundation wants to bring the latest technology and equipment to the hospital's cardiac catheterization lab – the busiest in the province and serving the entire Fraser Health region.
The Cardiac Care Campaign has a $3.3 million dollar fundraising goal to upgrade Royal Columbian Hospital's two cath lab suites, which are available 24/7 for cardiac emergencies like acute heart attacks. The interventional cardiology team performs high-levels of angioplasty to restore blood flow to blocked arteries and conducts angiograms to diagnose heart disease and other cardiac problems.
Simon Ma knew he had high blood pressure. He is also the first to admit he had a poor diet, didn't exercise, and he wasn't being helped by his pack-a-day smoking habit. But the 50-year old Burnaby man is stunned at how suddenly his life almost ended one night while watching his son play hockey at a Surrey arena.
Ethel Goddard has led an impressively active life. Hiking, cycling, skiing, tennis: she and her husband would frequently gather the three children and spend time doing all kinds of outdoors activities. It's a habit Ethel carried into her 80s, as the Langley resident joined local fitness group sessions and walked regularly. It was while out with her daughter that her condition dramatically changed.