Simon Ma knew he had high blood pressure. He is also the first to admit he had a poor diet, didn't exercise, and he wasn't being helped by his pack-a-day smoking habit. But the 50-year old Burnaby man is stunned at how suddenly his life almost ended one night while watching his son play hockey at a Surrey arena.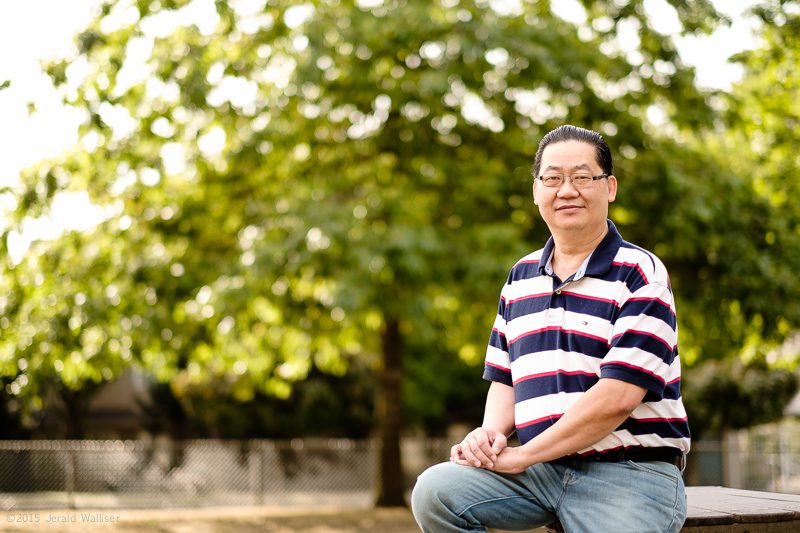 As the game ended and Simon waited for his son to come out of the dressing room and his wife to return, he collapsed without warning. "It just happened," he says. "I didn't feel any chest pain either. I just passed out. That was it."
Simon had just been struck by a severe heart attack. As can happen, the coronary artery blockage that caused the heart attack also triggered electrical instability that led to a cardiac arrest. Luckily for him, bystanders at the arena responded quickly. A number of people ran over to assist, including a nurse who led efforts to perform CPR and use an automatic defibrillator that was in the arena. At the same time, someone called 911.
"Even though the paramedics were quick, I think (the bystanders) made a difference, because they got my heart going before the paramedics got there," says Simon, who doesn't remember much about anything from that evening.
On arrival at the arena, the first-responders crew did an electrocardiogram and confirmed that while the heart rhythm had stabilized, the heart attack was ongoing. Following protocol, as the clock approached midnight, the ambulance bypassed the local hospital and made its way directly to Royal Columbian Hospital.
The emergency room team that was in communication with the ambulance crew alerted the cardiac catheterization lab that a critical heart attack victim was en route. Simon arrived shortly after, not yet recovering from his cardiac arrest, unconscious and intubated with his coronary artery still blocked.
The hospital's interventional cardiology cath lab team was ready to go. As the region's tertiary cardiac care centre, Royal Columbian Hospital's heart catheterization lab is available 24/7 for emergency cases from throughout the Fraser Health region. With over 900 emergency cases per year, the Royal Columbian Acute Cardiac Intervention Program is one of the largest in Canada, seamlessly integrating ambulance services, the emergency room, the cath lab and the intensive care team to provide the best possible care for these critically ill patients.
"We proceeded immediately to a cardiac catheterization, which showed severe heart muscle damage caused by the blockage of the largest of the three coronary arteries," explains interventional cardiologist Dr. Gerald Simkus. "Luckily, it was a very straightforward coronary angioplasty. We were able to get our wires down, and we quickly opened up the blockage in the artery with a balloon and stent, restoring blood flow to the heart muscle."
Time is muscle, and the damage to the heart can be limited by a rapid and precise response. "Once stabilized, our intensive care team took over optimizing his brain recovery, provided cerebral protection with cooling protocols and supported him until he was able to regain consciousness," says Dr. Simkus. "Luckily, both the heart muscle and brain recovered really quite well."
Simon spent about a week in hospital, including time under the watchful eye of the team in the Cardiac Surgery Intensive Care Unit.
"The nurses were more than helpful," remembers Simon about his time in hospital. "And the doctors took turns looking over me after the surgery. They explained to me what happened, what procedure I had and what it takes to recover."
Simon is impressed at the angioplasty's effectiveness. "Basically my artery was clogged. I couldn't tell you anything technical about (the procedure). They put stents in, and now I'm fine."
Now a few months after being discharged from hospital, Simon vows to be more health conscious. His plan includes immediately swearing off cigarettes, starting to exercise and watching more carefully what he eats. He's also begun to take medication for his blood pressure.
"I could have been gone," says Simon. "That's a scary thought. I guess you could tell all the signs: blood pressure, lack of exercise, overweight. The signs are there. It's waiting to happen, but at the same time, you don't realize that until it actually happens."