Cassii Clark has had many medical appointments since she became pregnant right around the start of the global pandemic. These have included weekly ultrasounds during pregnancy over concerns about her baby's slow growth, an induced labour at 37-weeks, and an urgent late-night trip to the hospital after lab tests revealed high bilirubin levels in her newborn girl Quinn. The two have also been making regular visits to get Quinn treated for clubfoot, a process made more comforting from knowing that Dr. Shafique Pirani, the Royal Columbian pediatric orthopedic surgeon providing that care, is widely recognized for his pioneering work in correcting the deformity.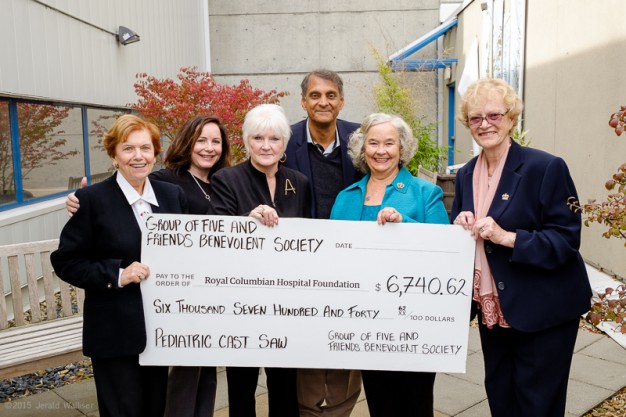 A group of dedicated volunteers that have been raising money to support Royal Columbian Hospital for more than a decade have directed their latest efforts in support of children.
The Group of Five and Friends Benevolent Society have purchased a pediatric cast saw to help orthopedic surgeon Dr. Shafique Pirani, whose clinic sees hundreds of children annually.
Jane Stewart was getting increasingly concerned. Her once-active 10-year old son Sam had developed a limp and was suffering from a sharp leg pain that was getting progressively worse as the months wore on. The pain hindered Sam's ability to play soccer or even enjoy a good night's sleep. It wasn't until the family met a specialist at Royal Columbian Hospital that they finally found answers and an eventual solution.