Jane Stewart was getting increasingly concerned. Her once-active 10-year old son Sam had developed a limp and was suffering from a sharp leg pain that was getting progressively worse as the months wore on. The pain hindered Sam's ability to play soccer or even enjoy a good night's sleep. It wasn't until the family met a specialist at Royal Columbian Hospital that they finally found answers and an eventual solution.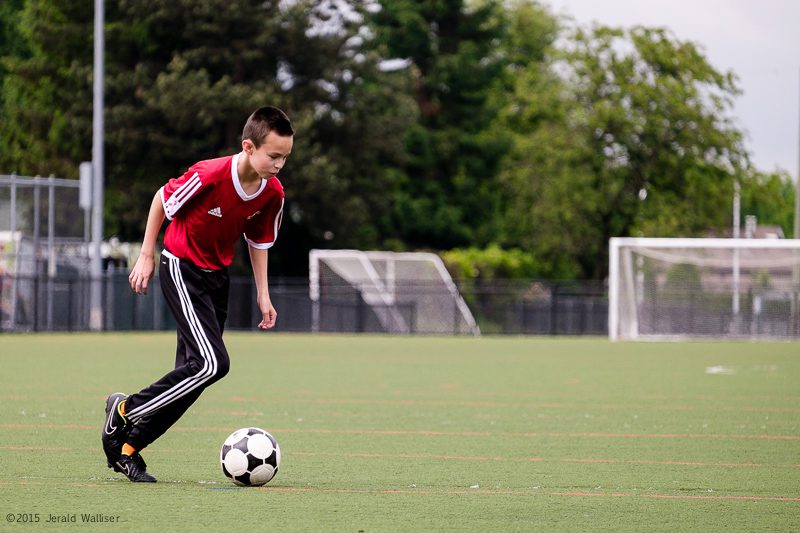 Jane thinks the pain started during a seemingly innocent schoolyard accident. "He got kicked, and the problem seemed to be in the spot that he got kicked," Jane recalls. "We went to the family doctor, who sent Sam for an x-ray and thought maybe there was a fracture or something."
That examination was the start of a series of visits to the doctor, physiotherapist and chiropractor, as the family searched for a way to fix whatever was bothering Sam. In the meantime, his limp was getting more pronounced, and he wasn't playing soccer as much. While he kept practicing, his playing time was limited since he could no longer compete at the same level.
"It was hard to keep up with the other players, including my opponents," says Sam. "I also really wanted to do cross country, but I couldn't, because it was hard with a limp."
Jane says the pain was disrupting day-to-day life. "He could hardly walk through the grocery store without being in pain. As parents, we are worried. We don't know what's going on," she says.
Adding to the stress, Sam was waking up frequently at night, when the pain would be at its worst. "It hurt so bad, I was up sometimes for half an hour," he remembers.
A breakthrough came when Sam was seen by Royal Columbian Hospital orthopedic surgeon Dr. Shafique Pirani, who requested a series of tests including CT and MRI scans. The results finally provided some answers. Sam had osteoid osteoma, an uncommon benign tumour that can be difficult to diagnose, on his right femur bone.
"It typically occurs in the early teens," explains Dr. Brad Halkier, the Royal Columbian Hospital interventional radiologist who would eventually treat Sam. "The tumours are small, tending to be less than a centimeter in size, but they have fairly devastating symptomatic effects."
Complicating the situation further, the tumour was affecting Sam's sciatic nerve. Not only was Sam in regular pain and limping, but he had also lost a lot of muscle as his right leg atrophied. "His calf actually felt like a toddler's calf," says his mother. "There was no muscle mass at all. He couldn't flex it."
It was during a meeting with Dr. Halkier that Sam and his family learned about the solution: cryoablation. Essentially, the medical team would freeze the tumour and kill it. Dr. Halkier is among a small number of doctors trained to perform this minimally-invasive, non-surgical method of treating a variety of tumours.
Dr. Halkier, whom Sam's mother credits for having an excellent rapport with her son, says cryoablation – one of three methods of ablation that Royal Columbian performs – offers advantages for some patients over other methods of removing the tumour. "First of all, we don't have to even cut into the bone," notes Dr. Halkier. "We just lay the 'cryo' needle immediately beside the tumour. Then, while we do a CT scan, we turn on the machine and we freeze the area, which in turn kills the tumour."
There really is no recovery period needed, as Sam and his family discovered when they went back home the same evening. "I noticed right after that I wasn't getting any pain," Sam says. "I slept right through the night without waking up in pain."
Two months later, and Sam is walking without a limp, is active again and is working hard to regain enough speed to keep up on the soccer pitch. Since a needle was used, there is no incision scar. And his mother is relieved.
"We're really grateful for first of all meeting Dr. Pirani," Jane says. "Dr. Halkier was excellent. Just the fact he was able to perform this procedure means a lot to us."