Miranda Tymoschuk is acutely familiar with the healthcare system. The 21-year-old Maple Ridge resident has undergone a dozen surgeries so far after being born with a rare condition called posteromedial tibia bowing. She has required numerous procedures to lengthen and straighten her left leg. But in recent years, she has been focused as much on her mental health as her physical health after struggles with depression and post-traumatic stress disorder.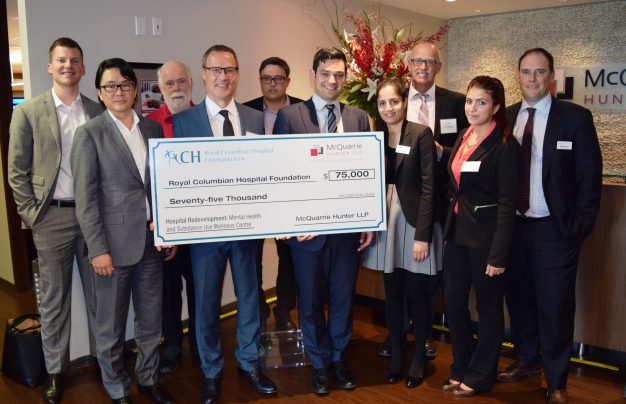 A mid-sized law firm with local roots going back decades is supporting the region's mental health needs with a gift towards redevelopment at Royal Columbian Hospital.
McQuarrie Hunter LLP has pledged $75,000 to Royal Columbian Hospital Foundation for the new 75-bed Mental Health and Substance Use Wellness Centre. The new facility, being built during phase one of hospital redevelopment, will provide a significant opportunity for groundbreaking research, increased psychiatric training and state-of-the-art patient care.
"Mum, you've never been so good." Those words from her children bring comfort to Joyce Kubu-Haynes, who has lived with mental illness for decades.
Hospitalized on three occasions, the 76-year old Coquitlam resident is grateful to Royal Columbian Hospital for helping her continue to live independently, enjoy time with family and friends, and manage her illness with daily medications.
If Janice Kirkrod wrote a book, she knows what she would call it: There's Light at the End of the Tunnel. Over the last three decades, the 75-year old Surrey resident has felt the darkness as well as the light, as she battled a depression that often left her in tears and with little energy to do much.
Shoppers Drug Mart, five store teams in Burnaby, Coquitlam and New Westminster, and its customers have contributed to women's mental health at Royal Columbian Hospital.
A new mental health and substance use facility, outpatient clinics and better care for seniors are part of the first phase of redevelopment of Royal Columbian Hospital.
Health Minister Terry Lake today announced business plan approval for phase one of the redevelopment, with a $249.8 million commitment from the Province and $9.1 million from the Royal Columbian Hospital Foundation.
Gregory Dowsett wasn't supposed to live as long as he did. Right from the start, he faced some complicated health problems, including being born with only three heart chambers instead of four. He survived his medical challenges into adulthood but passed away at the age of 25. His death devastated his mother, Marilyn.