Gregory Dowsett wasn't supposed to live as long as he did. Right from the start, he faced some complicated health problems, including being born with only three heart chambers instead of four. He survived his medical challenges into adulthood but passed away at the age of 25. His death devastated his mother, Marilyn.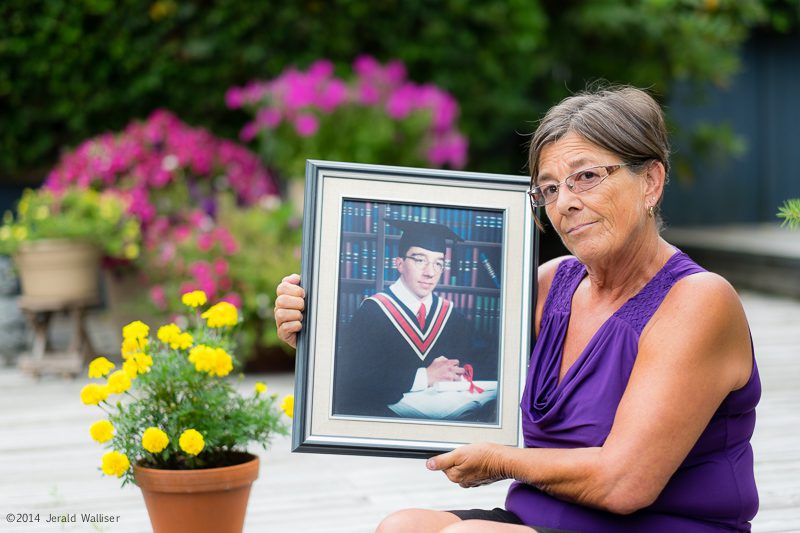 Marilyn says her son lived life to the fullest and travelled extensively to places like South Africa, Australia, and England, where he enjoyed spending time with relatives. "He did more things than a lot of people do in an 80-year old life," says Marilyn.
Greg's medical history includes a stroke at the age of one, a few surgeries and a number of trips to the hospital.
In late September, 2003, the 25-year old was rushed to emergency after falling ill. He was kept in an induced coma until he passed away several days later.
"He was the first thing, the last thing, most of the things I ever thought of," says the Port Coquitlam woman about her son. "I never thought about doing anything without first thinking of Greg."
The grief was overwhelming, and Marilyn describes having regular panic attacks after Greg's death. "We went to a barbecue once, and I actually stood in the middle of this backyard and screamed at the top of my voice," she recalls.
Marilyn was referred to Royal Columbian Hospital psychiatrist Dr. Anson Koo, who eventually admitted her. "I was terrified," says Marilyn. "But my husband took me and knew it was the best thing, because I wasn't doing very well. I wasn't coping at all."
Marilyn spent five weeks at Royal Columbian Hospital, followed by 13-weeks in an outpatient program. "I met the most caring, the most compassionate people you could ever meet in your entire life," recalls Marilyn. "I was also amazed at who else was in the hospital with me. How many young people, how many ordinary people, people that didn't seem different. They were just struggling with life."
Over time, Marilyn learned coping techniques that she says have helped her enormously. She continues to see Dr. Koo during follow-up visits.
"My life has changed completely since Gregory died," she says. "I am 100% a different person. I just feel so fortunate that I was where I was at the right time in order to be able to get this long-term support."