Dr. Brad Halkier worked at Royal Columbian for more than 30 years. Inspired by his colleagues and patients, he's chosen to leave a legacy gift to Royal Columbian Hospital Foundation.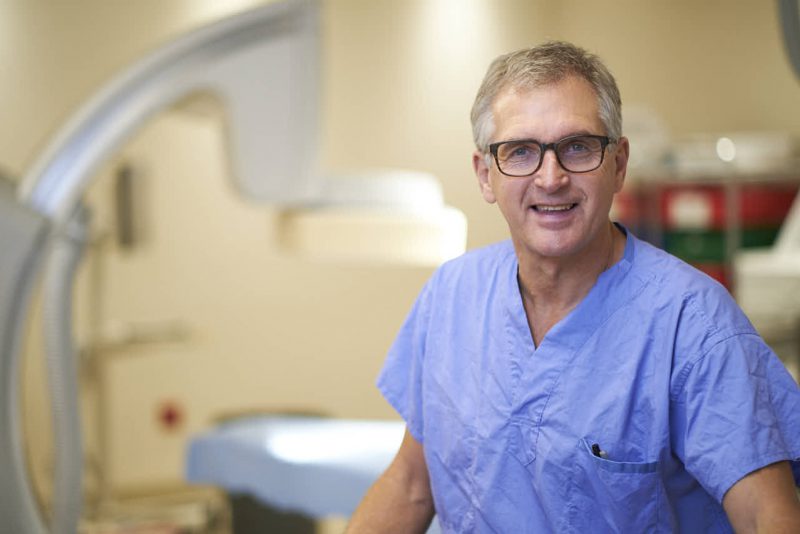 When Dr. Halkier arrived at Royal Columbian, his specialty, interventional radiology, (IR) was in its relative infancy. Interventional Radiologists use minimally invasive procedures guided by ultrasound and computerized tomography (CT) to diagnose and treat disease.
Whether it's blocking blood vessels to stop bleeding after trauma, removing blood clots in the brain during a stroke, or killing cancerous tumors with extreme heat or cold, IR physicians treat a wide range of serious and often life-threatening conditions without large incisions.
Over the years, Dr. Halkier became a recognized expert in his field. For him, Royal Columbian was the ideal place to grow, learn and practice. "I loved it there because of the people. They're bright, caring and dedicated. There's a real 'can do' attitude. Our work was challenging, varied and always centered on how we could do the best thing for the patient."
He is also appreciative of the opportunities he has for volunteer work. These have included trips to Guatemala where he joins other Canadian health care providers in delivering medical care to underserved communities. "I feel very privileged to be able to contribute in my work—to make a difference and touch other people's lives," says Dr. Halkier. "Sharing in their joys and their trials. It's really special."
His legacy gift is his way of expressing gratitude for an incredibly rewarding career. "At my stage, you start thinking about your legacy. What do you want to leave behind? It's always been my experience that when you give—whether it's time, money, or other personal resources, you always get much more in return. You come away feeling more fulfilled and grateful. Why wouldn't you want to give back?"
Curious how you too could make a Legacy gift?
LEARN MORE
Prefer to give now?
Consider committing to a monthly gift
MONTHLY GIVING
Connect With Us

Catherine Cornish
CFRE, Director, Leadership and Legacy Giving
Book a Meeting
Phone: 604.970.5931
Email: Catherine.cornish@fraserhealth.ca