The 'crown jewel' of Royal Columbian Hospital's $1.49 billion redevelopment – a new Acute Care Tower – is increasingly taking shape since construction started in 2021.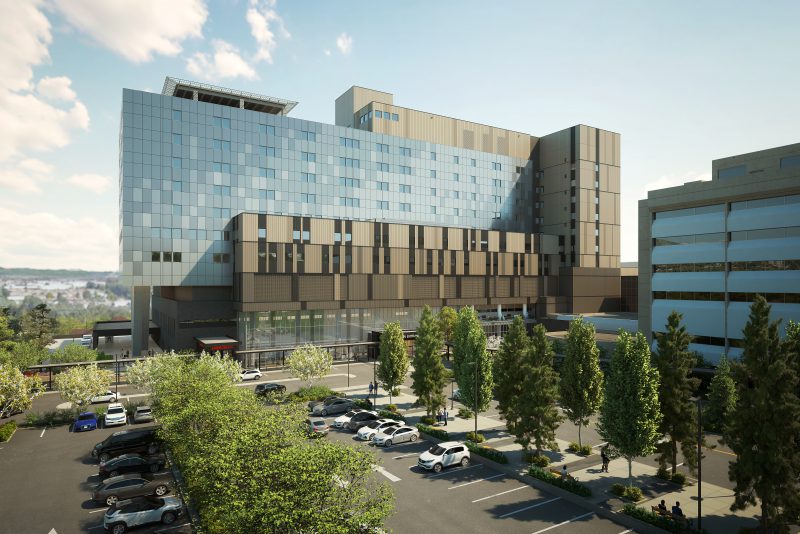 Our vision is to create a world-class hospital: a state-of-the art facility that provides uncompromising care and remarkable patient experiences. With a larger footprint and the introduction of cutting-edge technology, Royal Columbian will continue to respond to the needs of patients in their most urgent, life-altering moments.
A transformation in critical care
Caring for some of the province's most seriously ill and injured patients, Royal Columbian Hospital is in many ways defined by its critical care services. With a range of services that include trauma care, heart and lung life support, comprehensive stroke care, and most recently in its role as a primary COVID-19 site during the pandemic, Royal Columbian is one of BC's busiest and most specialized critical care hospitals.
Royal Columbian's redevelopment will create a 60-bed Critical Care Unit on the fourth floor of the new Acute Care Tower to increase capacity. This unit will serve all of Fraser Health and at the moment includes 28 Intensive Care Unit beds, 17 High Acuity Unit beds, and 15 Cardiac Surgery Intensive Care Unit beds. Additionally, the fourth floor will include a 17-bed Cardiac Intensive Care Unit, which will care for critically ill non-surgical cardiac patients, and seven additional medical surgical beds.
A transformation in emergency and trauma care
The Emergency Department, one of the most highly utilized in the province with over 75,000 visits a year, is the entry point to trauma care, and both services will receive significant additions during phase 2 of its massive hospital redevelopment. The new Acute Care Tower will house a larger Emergency department with 75 state-of-the-art treatment bays – increasing total space by more than half.
It will include four trauma bays and a new Imaging Unit, strategically placed within the Emergency Department to drastically speed up access to diagnostic procedures. Also, one operating room will be purpose-built and always available for trauma patients, to help avoid interrupting scheduled surgeries.
A transformation in interventional care
Intervention is at the core of modern health care. Every day, interventional specialists at Royal Columbian Hospital step forward to turn the tide for their patients – often with minimally-invasive procedures including heart and stroke emergencies.
The creation of an interventional super floor in the Acute Care Tower with multiple interventional suites will equip the hospital with advanced, state-of-the art imaging technology that allows for absolute precision. This floor will house eight interventional suites that will be universal, meaning that if needed, any suite could be used for either interventional cardiology or radiology. At opening, three suites will be used for interventional cardiac procedures and five suites for interventional radiology.
A transformation in care for families
With an entire floor devoted to both maternity and neonatal intensive care, along with a new pediatric department, there will be a significant emphasis on family-centered care in the Acute Care Tower.
It will house a new 48-bed Maternity department, with most rooms slated to be single-patient rooms to allow families the opportunity to bond in a private and dignified setting.
The new NICU will feature 24 single-patient rooms designed to support babies who require specialized one-to-one care. Most notably, these private rooms, with direct access to natural light, will provide the space and furnishings for families to stay with their baby overnight and develop long-term bonds. The NICU will also include respite space for families to gather, prepare snacks and participate in education sessions.
The new pediatric unit will provide every child and family with their own private room with an ensuite washroom and a sleeping area. These changes are not only designed to increase capacity and efficiency; they will also allow for increased privacy, patient dignity, and family bonding.
A transformation in surgical care
Royal Columbian Hospital's Surgical Program provides the highest level of care in surgical services to a wide variety of programs including: cardiac, trauma, high risk maternity, vascular, neuroscience, plastics and orthopedics. Close to 10,000 surgical procedures are performed each year at Royal Columbian Hospital. Almost 50% of these patients are unscheduled, emergency procedures – the highest proportion in the province. This means that staff must be able to adapt to a constantly changing work environment at a moment's notice.
Royal Columbian's surgical program will benefit from the addition of eight operating rooms in the Acute Care Tower, with three more outfitted for future use. Three 'hybrid' operating rooms of more than 860 net square feet will be equipped with state-of-the-art imaging technologies — allowing surgeons to use real-time imaging to diagnose, treat, and evaluate patients quickly, improving the speed and quality of care for complex cases and trauma patients.  In addition, three cardiac ORs will open as part of Royal Columbian's role as the health region's emergency room for the heart.