Building bridges was Michael Kazda's first career choice coming out of engineering school. But his path over the years has instead led him to a field that he considers more challenging but equally gratifying: the construction of hospitals. He's overseen a few so far across the country, including the multi-storey Acute Care Tower currently being built at Royal Columbian Hospital.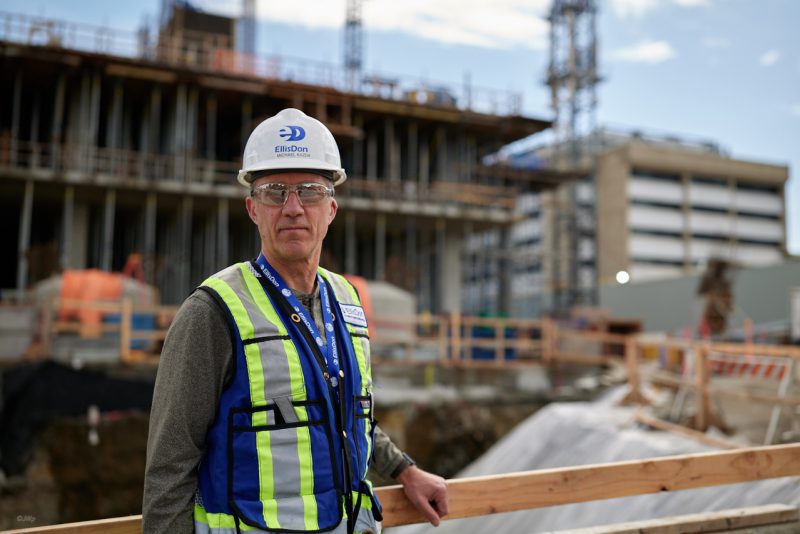 "Healthcare is a very rewarding thing to build because you know that what you're building is very meaningful to the community," says the Senior Vice President – Project Director at EllisDon Corporation, which was awarded the contract for the second and third phases of Royal Columbian's $1.49 billion redevelopment. "Healthcare is also, I believe, the most complicated piece of construction that you'll ever build. I don't think people realize the years and years of planning that the health authority puts in."
Taking shape
For the last year and a half since demolition of the former Sherbrooke Centre building took place, hundreds of construction workers have been assembling daily to methodically build the new tower, scheduled to be finished in 2025. The structure of the new building has started taking shape, and at peak construction as many as 1,200 workers will be on site.
"I think of it as this giant organism that you're trying to move towards the finish line," says Michael. "If you can get everybody pushing that giant organism in the same direction, you're going to get a hospital that everybody's going to be happy with."
The new tower will become the most prominent part of the hospital. At more than 70,000 square metres above grade with 350 parking spaces below, the tower will include an interventional super floor with operating rooms and interventional radiology and cardiology suites, a new Emergency Department with its own imaging unit, new larger maternity, pediatric, and neonatal intensive care units, and multiple floors for acute and critical care patients.  A helipad will be built on top.
With almost double the current footprint, redevelopment will significantly increase the current capacity of Royal Columbian by approximately 50% to 675 beds and will provide highly sophisticated critical care technologies and treatments. Coupled with the Mental Health and Substance Use Wellness Centre that opened in the summer of 2020 as part of the first phase of redevelopment, the Acute Care Tower will allow our physicians and health care team to treat 11,300 more patients each year.
Milestones
Part of the challenge of building such a significant addition to Royal Columbian is ensuring the hospital continues to function properly amid a construction zone. That stands out as a highlight so far for Michael. An interim support building was opened in September 2021 for hospital support services including laundry and maintenance. There was also the transfer of the tank farm for oxygen, nitrous oxide, and medical air reserves.
"We found the only available piece of green boulevard that we could on the campus and relocated the tank farm successfully, during COVID, without interrupting the gas supply to the hospital," Michael notes. "That was a key activity that we did at the beginning that worked out quite well."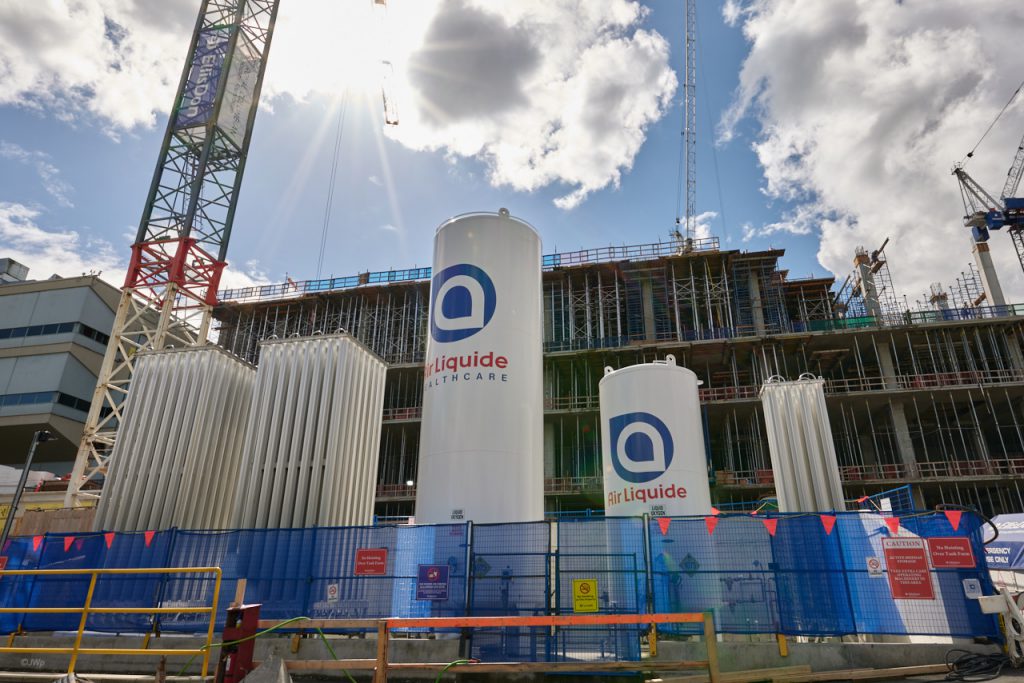 It is not the first time EllisDon has overseen construction at Royal Columbian. The company was awarded the contract in the late 1980s to build the Columbia Tower, where many of the inpatient units are located along with medical imaging.
"It's interesting how things come full circle," Michael notes. "Our project director for instance worked for Fraser Health 25 years ago, when this hospital was first conceived in the minds of the doctors and management."
Philanthropy
Along with building the physical structure, EllisDon is also keen on team building. The company is looking for ways to engage their employees on a deeper level as well as reaching out to the hospital community and beyond.
"During COVID, we have really seen what healthcare workers have been going through, in terms of the hours and the PPE they had to wear and the risk that they put themselves through," says Michael. "When you make our team more aware, they understand the importance of supporting the foundation and supporting the hospital."
EllisDon has partnered with Royal Columbian Hospital Foundation so far on initiatives to show encouragement and support for caregivers, including sponsoring special holiday season giveaways and a large appreciation event for the hospital family.
"People feel good when they do good for others in the world," says Michael. "And if people are happier, then they'll do a better job." It is part of EllisDon's approach to building a first class facility for Royal Columbian and its communities.