Pandemics and infection control measures have long been on the radar of healthcare planners. Previous international outbreaks, including SARS and Ebola, have made the topic a key consideration in the design of hospitals, including Royal Columbian Hospital's current $1.49 billion redevelopment.
"We talked a lot about how it wasn't an 'if' event, it was a 'when' event for there to be a SARS-like scenario," says Carol Galte, redevelopment's Chief Clinical Planner.
As COVID-19 began spreading worldwide in the early part of 2020, the pandemic had a couple of immediate impacts on the hospital's multi-year, multi-phase transformation. The most notable was the inclusion of the centrepiece of phase 1 of redevelopment in the province's response to the pandemic.
Scheduled to begin offering care to patients in April, the $258.9 million Mental Health and Substance Use Wellness Centre was instead one of two facilities identified by the province as being available should our healthcare system become overwhelmed by a surge in COVID-19 cases.
"It was quite clear that this was a brand new facility that could be called into action," says Galte.
As BC successfully flattened the curve during the spring, the mental health centre was returned to its original purpose and opened to patients in July.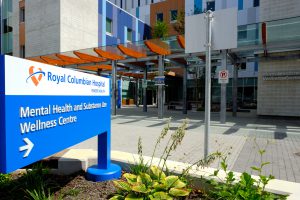 The other immediate change occurred behind the scenes as planning continued for the start of construction of phase 2, which features a multi-storey Acute Care Tower. Much like offices that adopted videoconferencing and online platforms to support physical distancing, the hospital's redevelopment moved design workshops and meetings into the virtual space.
"Some of the design reviews, we had to be innovative," recalls Sharat Chandra, redevelopment's Chief Project Officer.  "We had to implement some new tools to advance our design and still make sure we are able to provide the feedback from our stakeholders in a timely way."
With construction of phase 2 underway, the project's planning is already well advanced. The pandemic will now cause the project's team to search for new learnings that can be included in the Acute Care Tower, but don't expect many dramatic overhauls.
"Any changes we make have to be thoughtful and purposeful and directed and not just reactive," explains Galte.
And that's where all the work that has already occurred is paying off. Infection control measures including hand hygiene sinks and touchless doors are built in to the project. Design elements such as outbreak zones and isolation rooms are too.
Planners have been discussing physical distancing strategies such as the movement of patients and staff, an increase in virtual consults, and even how medical teams respond during patient emergencies.
Other adjustments may come, but only when they make sense and are based on a rationale.
"We want to make sure that those kinds of changes are validated through proper evidence, and we can accommodate into the design," explains Chandra.
The Acute Care Tower will become the heartbeat of the hospital, incorporating many of its busiest departments, including those that have been at the forefront of Royal Columbian's response to COVID-19.
They include an expanded emergency department, which is scheduled for the main floor of the new tower. Total space will increase by more than half as the new ER grows to 75 state-of-the-art treatment bays. It will include the new Jack Gin Emergency & Trauma Imaging Centre, strategically placed within the ER to drastically speed up access to diagnostic procedures.
"Having imaging capabilities right in the emergency department is another way to stream and enhance flow," notes Galte.
Meantime, the Intensive Care and High Acuity Units, where the sickest COVID-19 patients were treated, will be part of a 60-bed critical care floor to increase the hospital's capacity to care for some of the province's most seriously ill and injured patients.
"We are designing the critical care floor so that you can get some flexibility for surges or cohorting patients differently, like we have experienced with the pandemic," says Galte.
With completion scheduled for 2025, Royal Columbian's new Acute Care Tower will become a focal point in the hospital's response to future outbreaks, just as planned.