Dr. Margaret Blackwell's career has taken her from Licensed Practical Nurse to Cardiologist, with Royal Columbian playing an instrumental role in her education and medical practice. The first woman trained as a Cardiologist in BC, she's also a legacy gift donor to Royal Columbian Hospital Foundation.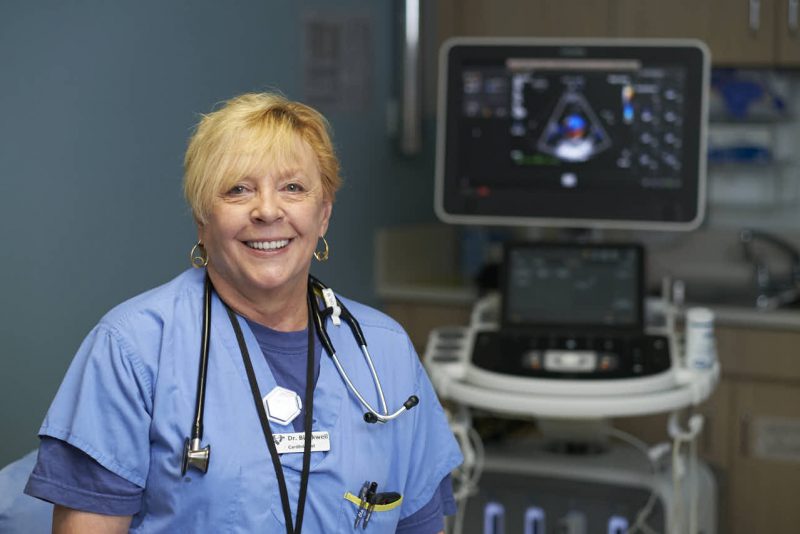 In the 90s, when Dr. Blackwell was working in RCH's old trauma unit, she watched as medical students came to the hospital for hands-on training.
"I wanted to learn all of the things they were learning," says Dr. Blackwell.
So for four years she worked part-time as a critical care nurse in the ICU at Vancouver General and RCH while attending medical school full-time.
"I don't know how I did it," she chuckles.
Wanting to specialize further, years later Dr. Blackwell applied to the University of British Columbia to specialize in Internal Medicine and Cardiology. She was told not to bother. That she wouldn't get in because a woman had never been accepted to the Cardiology program. She showed them.
"I've always been a bit of a rebel," says Dr. Blackwell.
Today, Dr. Blackwell specializes in Transesophageal Echocardiography at RCH. A transesophageal echocardiogram is used to assess the structure and function of the heart, and is done by inserting a probe with a transducer down the esophagus. This provides a clearer image of the heart because the sound waves do not have to pass through skin, muscle, or bone tissue.
Dr. Blackwell is passionate about her work and her hospital.
"What do I love about RCH? Everything! But mostly the people, and especially the staff and their can-do attitude. And here, you feel like you're part of a family," she says.
She was inspired to arrange her legacy gift to Royal Columbian Hospital Foundation because of the impact donor gifts make on her work.
"Giving is something I believe in. I've seen firsthand how funding from donors allows us to deliver excellent care to patients," says Dr. Blackwell.
Contribute to a lasting legacy of exceptional patient care at Royal Columbian
LEARN MORE
Prefer to give now?
Consider committing to a monthly gift
MONTHLY GIVING
Connect With Us

Catherine Cornish
CFRE, Director, Leadership and Legacy Giving
Book a Meeting
Phone: 604.970.5931
Email: Catherine.cornish@fraserhealth.ca