As Head of Pathology & Laboratory Medicine at Royal Columbian Hospital, Dr. Reza Alaghehbandan is part of a team that is central to the care of patients. The lab plays a major role in over 80-percent of medical diagnoses, providing answers to questions that cannot be answered by speaking with the patient or from basic physical exams or radiographic images.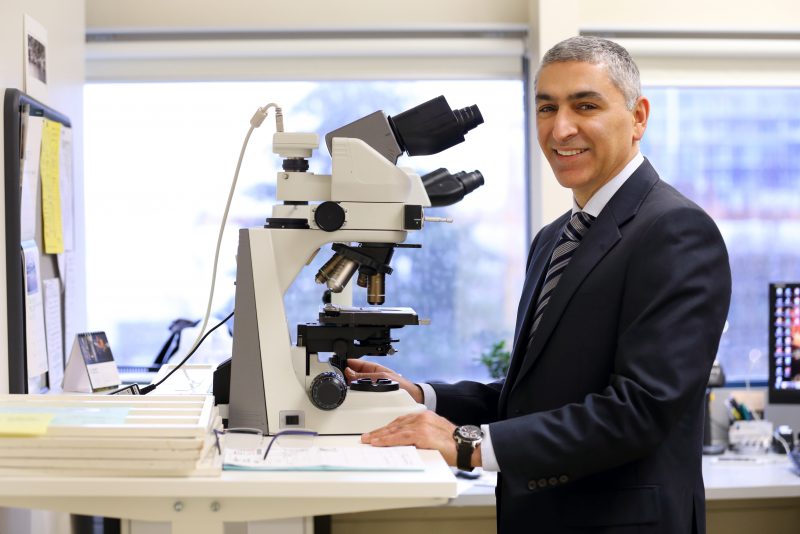 Foundation: How extensive is the role of the hospital's lab?
RA: Our Department is the largest in the region with 300 dedicated staff, providing 4.2 million tests annually. A major part of what we do is cancer diagnosis, which is the foundation of cancer care, with over 1,500 newly diagnosed patients per year. So we play a significant role in the health and well-being of our population.
Foundation: You're an Anatomic Pathologist. What does that include?
RA: Anatomic Pathology encompasses the study of tissue and cells removed from patients during a procedure to diagnose a disease and determine a treatment plan. This includes patients' specimens coming to us directly from hospitals' operating rooms, outpatient clinics, etc.
Foundation: Outside of your role at Royal Columbian, you are involved in a number of initiatives.
RA: I am a faculty member with UBC, teaching residents and medical students. I also serve on a number of provincial and national organizations and committees. I have been very privileged to engage in volunteer activities in under-resourced countries in Africa and Asia. I am an IAP (International Academy of Pathology) Ambassador, promoting pathology services in underserved areas. I also serve as an expert panel on cancer control at the World Health Organization for building pathology capacity in low-resource countries.
Foundation: What drew you to become involved?
RA: The reason is very simple. Happiness is directly connected to service, and serving others enriches one's soul. In life, we have been given so much and being a big believer in a two-way avenue philosophy, we must share and give back too. Serving others in need is an honour and privilege that should not be taken lightly. And in fact philanthropy is the essence of Global Health, which reminds me of this by William Shakespeare:
"The quality of mercy is not strain'd,
It droppeth as the gentle rain from heaven
Upon the place beneath: it is twice blest;
It blesseth him that gives and him that takes."