Ashley Durance had just survived a life-threatening complication of pregnancy. Her newborn girl Hazel, among the most premature and smallest ever to be born at Royal Columbian Hospital, was under constant watch in the intensive care unit for newborns. And now Ashley's father Rick Walsh was about to undergo open heart surgery. With Christmas of 2016 only a couple of days away, it was hard to believe all that had happened in the last several weeks.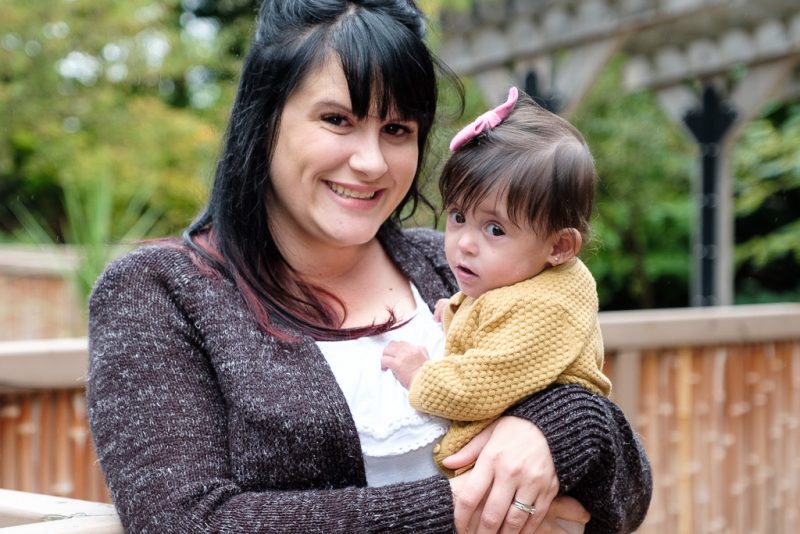 Ashley was 23 weeks pregnant in early November when the Chilliwack resident woke up with severe stomach pains. "I thought I was in pre-term labour, the pain was so bad," recalls Ashley.
At her local hospital, tests showed high blood pressure and a significant amount of protein in the urine. Both are common indicators of pre-eclampsia, which is a pregnancy disorder that puts the mother and baby at risk.
In addition, Ashley's blood platelet count was dropping, and there were problems with her liver. She was diagnosed with HELLP syndrome, a life-threatening complication with only one treatment option – delivery of the baby.
That's when she was rushed to Royal Columbian Hospital, a high-risk maternity centre with the ability to care for the province's smallest and most fragile premature babies.
Ashley's condition continued to deteriorate as she arrived at Royal Columbian. So much so, the medical team decided she needed to undergo a caesarean section, right away.
"To deliver a 23 week or even a 24 or 25 week baby, that's a huge decision," says Royal Columbian obstetrician Dr. Mina Wesa. "We don't take that lightly. If the maternal condition is deteriorating to that level, you need to get the baby out for both their sakes."
"The pain in my head from the high blood pressure was so bad at that point," says Ashley. "If I am not okay, then the baby is not going to be okay."
With the neonatal team ready to intervene immediately, Hazel was born 17 weeks premature, weighing less than a pound, and with her survival very much in question.
"Babies born this early obviously can die," notes neonatologist Dr. Miroslav Stavel. "Your lungs are not developed well. You are at risk of infections, problems with the brain, the bowels, the eyes. None of the organs are developed fully yet."
Mere days after being born, Hazel's organs started failing. It appeared she would not live much longer. The neonatal staff prepared the family for this likely outcome, even as doctors made a final attempt to encourage Hazel's organs to restart, using fluids and medications. Extraordinarily, it worked.
"If the doctor hadn't believed in her or hadn't thought to pump all those fluids in her, then her kidneys wouldn't have started working again, and she wouldn't have lived," says Ashley. "After that, she just kept fighting. She kept going."
As the family settled in to life in the hospital's Variety Neonatal Intensive Care Unit, they soon had to prepare for yet another health scare.
Ashley's father Rick had been bothered by chest pains and needed quadruple bypass surgery.
As BC's busiest cardiac care centre, Royal Columbian Hospital performs all of the open heart surgery cases in the Fraser Health region. Two days before Christmas, Rick was brought into the operating room.
Ashley was in the NICU when her father was taken out of the OR to recover in the Cardiac Surgery Intensive Care Unit. She couldn't help but notice the similarities between her little girl and her dad.
"On one end of the spectrum, my premature micro preemie is intubated in the NICU," she explains. "And across the hall, I have my dad, also intubated."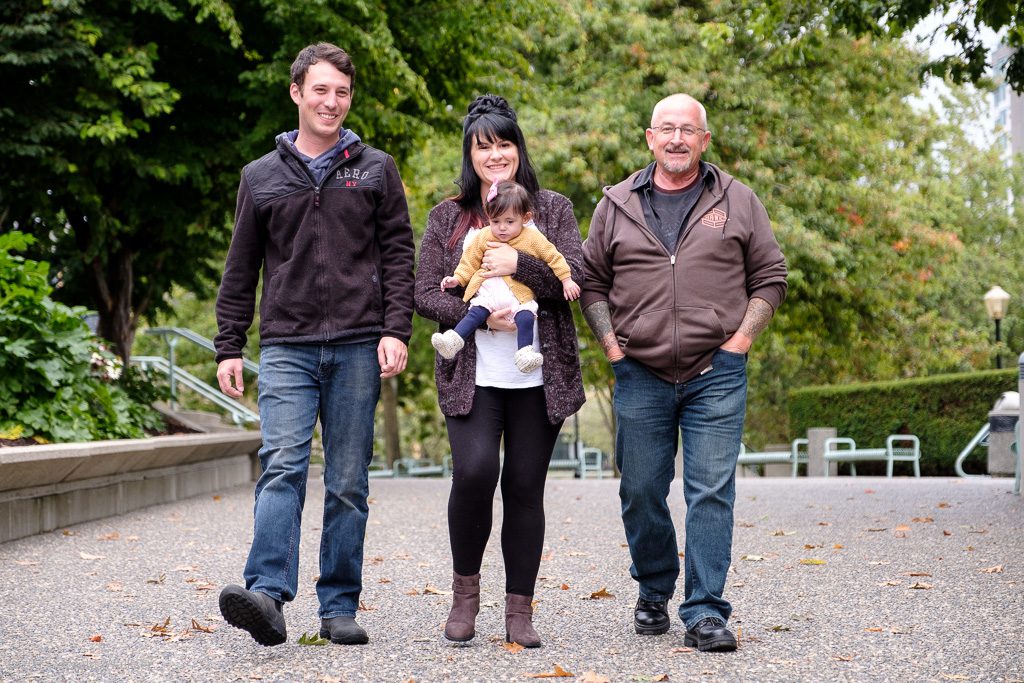 Ashley and Hazel Durance, with Ashley's husband Jeff and her father Rick.
While the family spent Christmas in the hospital, it wasn't long before Rick was discharged. Hazel, however, spent a total of six months in the NICU before she was ready to go home.
Today, Ashley says her little girl is doing incredibly well. Ashley often thinks of the care her family received and the bond that formed with the doctors and nurses at Royal Columbian.
"I am just so thankful that's where we ended up," she says. "If I had to do it over again, I would demand we go to Royal Columbian."
For his part, Dr. Stavel says the family deserves credit too.
"I have no doubt a big part of the reason why Hazel is doing so well is her family."
Make a difference for emergency patients like Ashley and Hazel. Provide support for our high-risk maternity & NICU caregivers when the moment is critical.