For Jocelyn McComb, spending the first two months of her life in Royal Columbian Hospital has been a source of inspiration. The 20-year old Surrey resident was born 13-weeks premature, and the stories she's heard about her time in the neonatal intensive care unit (at the time known as the special care nursery) have encouraged her to pursue a career in nursing.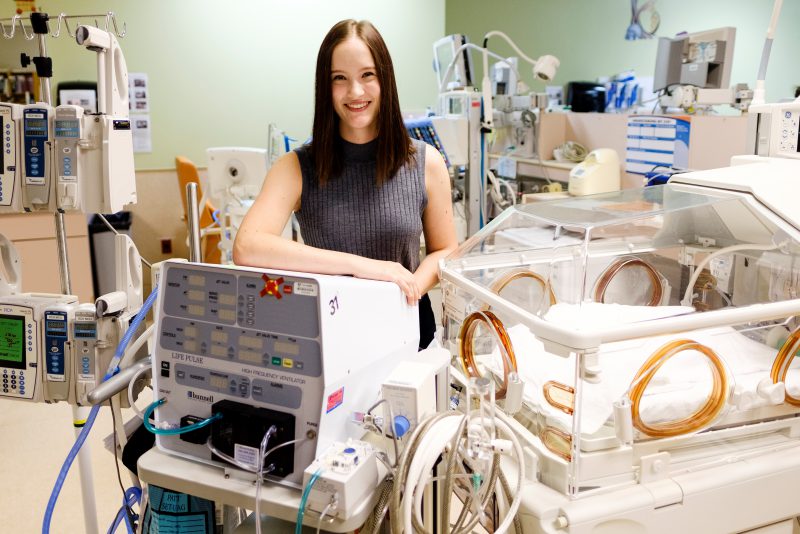 Jocelyn McComb, during a visit to Royal Columbian Hospital's Variety Neonatal Intensive Care Unit.
"Just hearing from my parents how caring everybody was has helped me decide what I want to do and helps me become a more caring person too," says Jocelyn as she heads into the second year of her nursing studies.
She was born at 27-weeks, weighing two pounds, two ounces. Her parents Sandra and Andy say they quickly were put at ease despite the unexpected events of two decades ago.
"I was quite nervous, seeing how small she was and how early it was all happening," recalls Andy about his daughter's birth. "I was concerned about her health. But the nurses were very reassuring."
After eight weeks, Jocelyn was ready to go home. Each year since, the family has made it a point to return to visit the neonatal team at Royal Columbian.
"During Jocelyn's stay in the NICU, we really became close to the staff," says Sandra, who, along with Andy, also works in the hospital. "We missed them and just felt we didn't want to lose touch. We would visit the NICU staff, bring them a recent photo, some baking and show them how Jocelyn was growing up."
Variety Neonatal Intensive Care Unit manager Queenie Lai enjoys the regular visits and says it is helpful for families who are currently in the unit to see that someone like Jocelyn was once in an incubator too.
"I showed her to all the parents and told them she was here 20 years ago," says Queenie. "It is good for parents to see Jocelyn. It's very encouraging."
"It's just a really positive environment," says Jocelyn. "(The nurses) were all so happy to be there. Seeing them all work together to take care of the babies is really cool."
Prove support for our NICU team, who help make a difference for patients like Jocelyn.