In the blink of an eye, the Cabintoy family's early morning drive to church in Surrey took a horrific turn. Dashcam footage of the October 2018 head-on crash shows a car in the opposite lane suddenly swerved into their path, leaving no time to react. Royal Columbian Hospital – with one of the province's two Level 1 trauma programs - would soon be called upon to respond to the extensive injuries suffered by the parents of two young girls.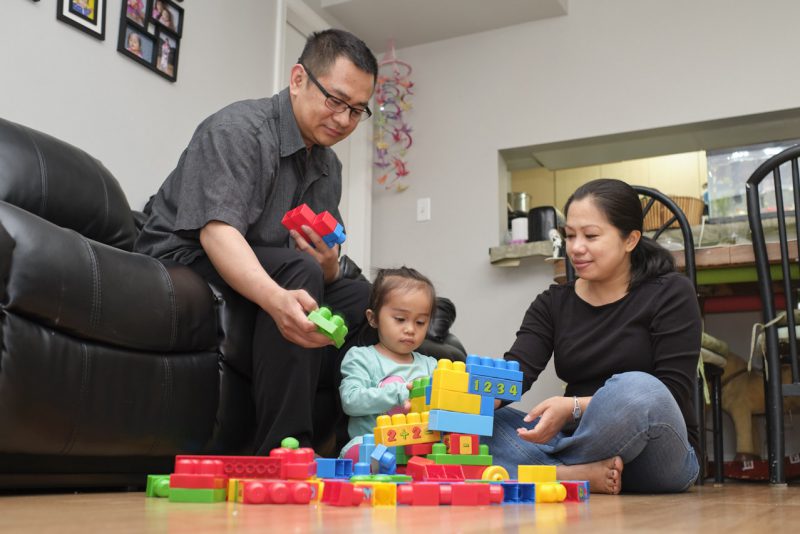 "Every time I watch that video, it's still hurting me," says Jenny Cabintoy, who was in the back seat with the couple's nearly two-year-old daughter. The little girl miraculously escaped with only a bruise on her forehead, and thankfully their other daughter was still safe at home with family. Jenny and her husband, however, would need emergency surgery.
"All I knew is I felt pain in my abdomen," recalls Jaime Jomedes Cabintoy Jr. "I felt dizzy. My eyes were bleeding."
In emergency, the trauma team found Jaime was losing blood into his abdomen. The injury was immediately life-threatening, so Jaime was rushed to the operating room where Dr. George Melich went about fixing the many bleeds.
"I was systematically working towards finding the main bleeding," says Dr. Melich, a trauma surgeon with a colorectal specialty. "It was one of the major blood veins that connect the intestines to the inferior vena cava, the largest blood vessel that brings blood back to the heart."
Once the main bleed was under control, Dr. Melich concentrated on the other injuries, including a ruptured bowel that had to be reconnected and a serious eyelid injury. As he was finishing the operation, Dr. Melich was preparing to shift his focus from husband to wife.
"As I was finishing the operation on Mr. Cabintoy, I was already getting phone calls about Mrs. Cabintoy," says Dr. Melich. "Just like in her husband's case, one of the initial scans showed she's also bleeding heavily into her abdomen."
Jenny also suffered a ruptured bladder and tears in her liver and abdominal wall.
"I just remember my daughters," recalls Jenny. "I have to survive for my daughters, or whatever happens to me or my husband, one of us survives. So I keep fighting every day. I keep praying."
Following their surgeries, the couple spent just over a week recovering in hospital. Dr. Melich credits outstanding coordinated care for saving their lives, including first responders, multidisciplinary nursing and physician teams.
Even as they continue to recover from the crash, Jaime and Jenny are thankful.
"We cannot express our gratitude," says Jenny. "I know that kind of accident, it's so hard to believe that you survive from all the injuries. We are so lucky."
Make a difference for emergency patients like Jaime and Jenny Cabintoy. Provide support for our caregivers when the moment is critical.