Harbhajan Singh Athwal's children admire their father's commitment to his friends, family, and his faith. But when the 65-year-old family patriarch passed away from COVID-19 in March 2021, the number of stories others shared of his generosity and kindness surprised even his family. And amid the intense grief, the family knew they wanted to give back to honour his memory and thank the healthcare team at Royal Columbian Hospital.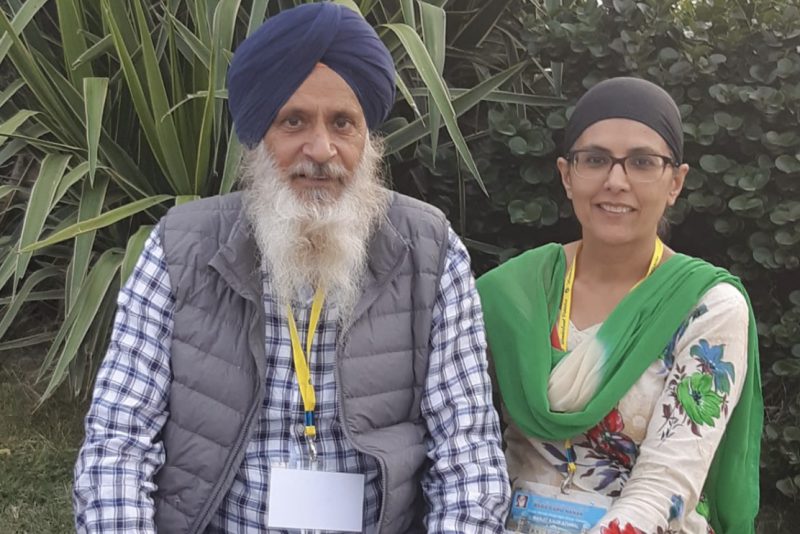 "If you talked to any of our father's friends, they will say he was their best friend," says daughter Bininder. "He had a passion for building and helping people."
In early February 2021, weeks before COVID-19 vaccines became widely available, Harbhajan and three other members of the Surrey family tested positive for the infectious disease.
"The symptoms were so mild, we didn't think it was COVID until we got confirmation," recalls his wife Manjit. "It started as a runny nose and cough. The cough we didn't think too much about, because every winter he would always get coughs."
Soon, Harbhajan's chest became increasingly congested, he had difficulty sleeping and had trouble moving around the house.
"Getting up was getting difficult," says son Jagveer. "His breathing was getting difficult."
When Harbhajan requested medical help, he was brought to the hospital in Surrey. Hours later, he was moved to the Intensive Care Unit.
As Harbhajan's condition continued to worsen over a period of weeks and his medical options diminished, doctors started discussions about calling in a specialized group from Royal Columbian Hospital. Its mobile ECMO team, the only one of its kind in the province, is tasked with retrieving patients whose heart and/or lungs are failing.
ECMO, short for extracorporeal membrane oxygenation, is a life support machine used when other options have been exhausted.
"During the pandemic, ECMO has been used so we can rest the patient's lungs with minimal support from the ventilator," explains Dr. Craig Fava, a critical care physician who is part of Royal Columbian's mobile ECMO team. "It is not a curative therapy. It is a supportive therapy."
"The ECMO machine itself is not something that you want to see your family attached to," says Bininder. "But when you are in that moment, and it's your last hope, you'll take it."
As Harbhajan arrived at Royal Columbian's Intensive Care Unit, connected to numerous tubes and machines, the family recalls being told he was considered the sickest patient in BC.
With visitor restrictions in place, the family relied on regular phone calls with the medical teams as well as video calls where the family could pray at Harbhajan's bedside.
"I appreciated all the support from the doctors and the nurses in that ward," says daughter Kiren. "We knew the nurses were busy. We were calling the ICU every day, and they made the time to set those iPads up for us."
Despite the interventions, Harbhajan's condition continued to deteriorate. Two weeks after being transferred to Royal Columbian, his family was told he would not survive. The hospital made accommodations for Harbhajan's loved ones to come over.
"The doctor was very supportive of who wanted to go in that room. I knew I wanted to go," says Bininder.
Bininder and Jagveer dressed up in PPE and entered their dad's room, while other family members stayed on the other side of the glass windows, where each said goodbye by video. Harbhajan passed away March 18, just over five weeks after first testing positive for COVID-19.
A couple of months later, the Athwals reached out to Royal Columbian Hospital Foundation looking to help purchase a ventilator for the hospital, with generous contributions from friends and family.
"It's incredibly touching for me and for all of us as a group," says Dr. Fava. "Often, we don't hear how the families feel as they grieve. We don't do our work for the appreciation, but it's nice to hear."
"Dad didn't make it, but maybe somebody else's family member will," says Bininder. "The doctors and nurses provided us with so much comfort by answering our questions. We didn't know how else to say thank you but to give back."