It was a series of fortunate circumstances that helped save the life of Colin Lewis. The 73-year old White Rock man was in Abbotsford with family, on their way in a van to pick up the grandchildren from school, when his heart suddenly stopped. Thanks to the quick actions of a number of people in the crucial minutes after Colin suffered cardiac arrest, he was able to successfully undergo emergency quadruple bypass surgery at Royal Columbian Hospital.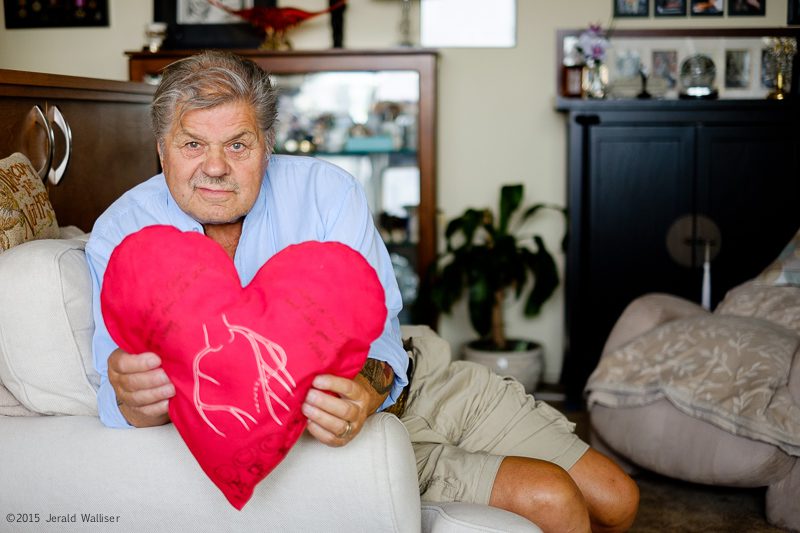 The first fortunate occurrence was the nearby presence of two men named Steve, both of whom had received CPR training. Son-in-law Steve Stewart was the driver and realized Colin was in distress when he started making strange sounds. Meantime, Steve Parks, who was in the same parking lot as the van, noticed the commotion and came over to help. Both worked to save Colin.
Soon, firefighters arrived with a portable defibrillator, which they used to jolt Colin's heart back into a rhythm.
Royal Columbian Hospital cardiac surgeon Dr. Daniel Wong says Colin would not have survived without that early response. "If it wasn't for these people and their truly heroic efforts, Mr. Lewis would not be around," he says.
In the absence of quick action, cardiac arrest puts vital organs at-risk, including the brain as it suffers from a lack of oxygen and nutrient-rich blood. Both Colin and his wife Jacquie remember hospital staff testing whether he could remember his name and age. "They were amazed he hadn't lost any of his brain," says Jacquie.
After a stop at the local hospital, Colin was sent by ambulance to Royal Columbian Hospital, which provides emergency cardiac care for the entire Fraser Health region. An angiogram revealed blockages had obstructed the flow of blood to the heart.
"One (blood vessel) was fully blocked," notes Colin.
By this point, Colin was considered stable, but his case was still urgent. He was brought into the operating room, where the surgical team worked for a few hours to restore blood flow.
"I found veins from his legs and used an artery from his chest to make detours around four separate areas of blockage in his heart," Dr. Wong outlines.
Following surgery, Colin was brought to the Cardiac Surgery Intensive Care Unit. Recovery was not without complications, and Jacquie had a lot of time to observe the kind of care being offered to her husband. During one memorable moment, Jacquie returned to find her husband's breathing tube had been removed.
"The nurse had combed his hair really nicely, and they turned the music up," Jacquie recalls. "Colin was sitting there, smiling away and tapping his foot to the music. All the staff in there walked by and thumbs up, they were all clapping."
Jacquie is also thankful for the hospital volunteers, who provided occasional relief. "They come around to make sure you're okay. 'Do you need a coffee or tea or whatever?', and they are really, super nice."
Seventeen days after his near-death experience, Colin was discharged from the hospital. The people involved in the initial response have since been publicly commended for their actions. Colin recognizes he is fortunate.
"I really am getting fussy now about what I eat and try to exercise a bit more and lose the weight," he says.