When you meet Daniel Falconer, you wouldn't think that this is a man who has suffered the most horrific of workplace accidents. A towering 6 foot 8 inches tall and in possession of an even larger sense of humour, Daniel is working hard to get the better of a bad situation.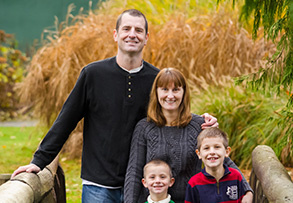 Daniel, 36, is a charge hand at a concrete operation in Delta where they make landscape bricks. On January 12, 2012, just after lunch, Daniel was checking in on one of the workers for a product change. He got caught from behind by a pusher plate that pushes bricks along a 20-foot ramp into a tumbling machine where the bricks are aged. The plate pushed him onto the ramp, crushing his pelvis down to an inch and pulling him towards the tumbler.
A co-worker saw what was happening and his screams drew his co-workers to his side within seconds, just as the machine threatened to rip Daniel in half. "I blacked out, and then all I remember is that I had my buddy on my back telling me, 'Don't move Daniel, don't move'. I mumbled, 'I just want to go to sleep', and my boss said 'There's no way you're going to sleep'." While the ambulance was on its way, Daniel's co-workers used blow torches to slice apart the equipment that kept him pinned down. As they loaded him into the ambulance, Daniel told his foreman, "Hey, I'm not going to be in tomorrow."
Daniel was rushed to Royal Columbian Hospital (RCH) where trauma team lead Dr. Michelle Goecke and team were ready and waiting to assess Daniel's physical damage.
What took only a few seconds to happen would irrevocably alter Daniel's life. The inventory of injuries that Daniel's body sustained is a long one, and included the loss of his left kidney, extensive nerve damage to his left leg, a crushed pelvis and severely damaged intestines.
Once his condition stabilized, Daniel's soft tissue injuries were addressed first, with trauma surgeons Dr. Michelle Goecke and Dr. Naisan Garraway needing to remove a portion of his damaged intestines and reconnect what remained. Urologist Dr. Brian Yang had to remove Daniel's damaged left kidney and reconnect his ureters to his right kidney. "It was a tricky surgery, both ureters were completely torn off at the kidneys and had retracted down into the pelvis. I had to retrieve the right ureter and and reattach it by suturing it to the posterior abdominal wall," recalls Dr. Yang. "But it worked and today his kidney functions fine without the need for dialysis."
Given the complexity of Daniel's pelvic fractures, Dr. Darius Viskontas and Dr. Trevor Stone teamed up to reconstruct Daniel's crushed pelvis and repair his torn ligaments. "We had to insert a plate with screws at the front of his pelvis and screws in the back of his pelvis to connect it to the base of his spine," says Dr. Viskontas. "It was a bad pelvic injury, but we see a fair bit of those here at RCH as we are a provincial trauma centre."
"The people who were involved in my care weren't just good at what they did, they had an amazing sense of humanity," recalls Daniel.
Daniel remained at RCH for two-and-half months, and then was transferred to other hospitals for his continued recovery and rehabilitation.
Despite having to deal with subsequent challenges involving infection and a gall bladder removal, Daniel was making big strides towards regaining his ability to walk. In fact, he was walking up to two kilometres a day with crutches, when he suffered a setback in September 2013. While walking on the sidewalk back from his son's hockey practice, Daniel tripped over his left leg, fell and suffered a hip fracture. Although Daniel feels this subsequent injury has pushed him back a month in his recovery timeline, he's determined to get beyond it. Orthopedic surgeon Dr. Trevor Stone is confident that it's not a showstopper in Daniel's recovery: "It's a blip in the road, but not a particularly bad fracture, and it happened in a location that has a high chance of healing."
A win for Daniel was regaining his driver's license at the end of July, and he is now lining himself up for another win in the spring, when he plans to put his extensive art background to work and return to school to train in 3D Drafting.
When asked what keeps him so positive in the wake of such challenging times, he answers with a grin from ear to ear, "My beautiful wife and boys," says Daniel. "You just keep going forward; you put your head down and grit your teeth."