85-year old Gladys Robinson had been fiercely independent, enjoying life in her small cabin by a lake north of Edmonton. She still shovelled her own walk, brought in firewood for her wood-burning Franklin stove and drove her car into town to get groceries. But as she visited her family in the Lower Mainland over the Christmas season, Gladys suddenly found herself in Royal Columbian Hospital with a stunning diagnosis: terminal lung cancer. In the days that followed, as all her loved ones visited and the hospital offered palliative care, one thought kept coming back to Gladys – "this is perfect."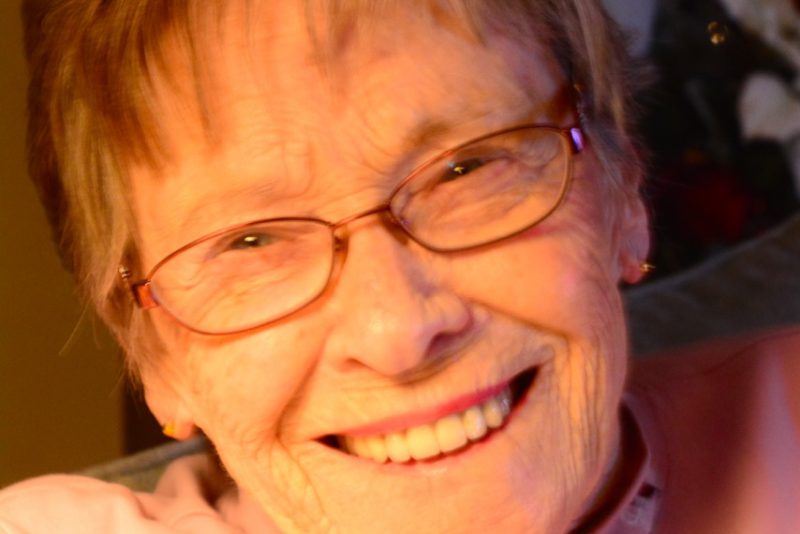 Prior to being brought to hospital on Christmas morning, she seemed fine. Her friends and family had recently taken her out boating, and she had been out for dinner on many occasions. Daughter Beverley Richards says her mom giggled regularly and was her usual happy self. She said she had never felt better as she made her annual phone calls to friends to wish them a very Merry Christmas.
The first sign of what was to come occurred on Christmas Eve, as they walked over to look at the Christmas lights at Lafarge Lake. "She was a little bit out of breath and a little bit out of sorts, but nothing major," remembers grandson Geoff Richards. "She had COPD for years, so we didn't think anything of it."
First thing Christmas morning however, as the family was getting up, Geoff heard her gasping for breath. "She said she had been like this since four or five in the morning," he says.
Geoff drove his grandmother from Coquitlam to Royal Columbian Hospital's emergency department, where they connected Gladys to oxygen and began the process of figuring out what was ailing her.
Believing it was pneumonia, the family expected their matriarch would soon be home again. Gladys, for her part, worried she was ruining Christmas plans. "For Christmas dinner, we ate potato chips out of the various vending machines," chuckles Geoff.
X-rays and a CT scan began to suggest something other than pneumonia. Gladys was admitted to hospital and more tests were ordered. A lump was found on her lungs, and spots were discovered on her liver. A biopsy confirmed the bad news.
Hospitalist Dr. Joelle Bradley oversaw Gladys's care while at Royal Columbian. "Her cancer was very bad, very disseminated," she says. "This cancer had probably been building up over months or even a year."
Geoff says his grandmother reacted quite stoically. "She kind of had this little satisfied smile on her face and said 'I've had a good life.' That was her response."
Rather than attempt aggressive treatments, Gladys decided on palliative care, and her family supported her. Dr. Bradley encourages families to consider advance care planning.
"These conversations ideally happen in the comfort of one's own home outside of a health crisis," explains Dr. Bradley. "It allows a person and their loved ones to know what is truly important as time is running short. This prepares them to work with the doctors, who know the treatment options, and together choose a treatment plan to honour the person's values, priorities and beliefs. For Gladys, she and her family already knew quality of life and symptom control were most important to her, and it was a clear decision to forgo chemotherapy and instead pursue a palliative care pathway, emphasizing comfort care to allow for a and allowing a natural, peaceful death."
Beverley and Geoff were impressed by the compassion shown by doctors and nurses.
"I had indicated she was really uncomfortable being seen in public without her teeth," recalls Beverley. "When she went down for her bronchoscopy, they wouldn't let her take her teeth with her. So when they brought her back, respirologist Dr. Randy Chung had put a surgical mask on her. I thought that was amazing that he would think to do that for her."
Gladys's health had already begun to deteriorate significantly when she decided on palliative care. As it became clear that she didn't have much longer to live, family and visitors regularly arrived to see her in hospital. On New Year's Day, they finally had their Christmas, as close friends brought in an amazing feast and everyone gathered round and opened gifts. The night before Gladys passed, her entire family surrounded her, with more than 20 people forming what they describe as a 'healing circle'.
"She laid there, giggling," says Geoff. "She didn't keep her eyes open much at this point but would still answer questions if asked. Mostly we were all quiet.
She could open her eyes and give out hugs and stuff like that though. She laid there, saying 'I'm the guest of honour.' For a very humble woman, that was quite huge."
In addition to the care Gladys received, the family is as impressed with how they were all welcomed by staff. They say the support and understanding they received allowed Gladys to pass with dignity and on her terms.
Dr. Bradley is moved by the way the family handled Gladys's final days, almost throwing an in-hospital party in honour of her life. "They loved their mom or grandmother so much, I have never had a family truly celebrate end-of-life like this. It was really special for me."
During those final days, Beverley says her mother mentioned many times how perfect everything was. Geoff says his grandma accepted her fate. "She said 'I am so glad you get me on this. This is the way I wanted to do it.' We laughed about it. This is the game of life. Nobody gets out of it alive."
Gladys, having waited until she had the opportunity to speak alone to each and every member of her family, passed away January 10th, just over two weeks after stepping through the ER doors. "We went over and thanked those who had been mum's nurses," says Beverley. "Doctors were very compassionate and very kind. It was an amazing journey."