June 2011 will forever be etched in the memory of Amanda Yuen's mind. It was the day her father was diagnosed Acute Respiratory Distress Syndrome, and was admitted to RCH. He would remain there for five long months.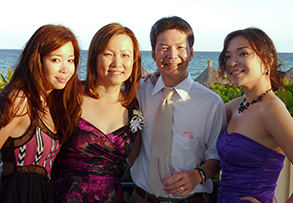 Les Yuen of Coquitlam is an active 55-year-old industrial electrician by trade, who admits that he was probably in the best health of his life before he developed double pneumonia. But when Les was admitted to RCH, he had only 50 per cent lung capacity. "It's weird because you don't really know how sick you are," recalls Les. "You're just really tired and think 'I just need to rest', but you're worse than you think."
Dr. Steven Reynolds is an intensivist who provides care to critically ill or injured patients at RCH. He was one of the first to assess Les's condition.
"I'll never forget… he was a bright, articulate, accomplished man, and I remember looking at his chest x-ray and thinking 'He is really sick, this is going to be really tough on him', but he managed to survive a very terrible disease," says Dr. Reynolds. Les required multiple modes of ventilation (breathing machinery) to address his complicated lung issues, and was placed in a medically induced coma for twenty days in RCH's Intensive Care Unit.
"Life for my family revolved around the ICU and we spent every day at the bedside even though there was nothing we could do," recalls Amanda.
It was confounding for Les's family that someone so healthy be struck by such illness. Dr. Reynolds explains that the most common site of infection is in the lungs. "Our immune system is directed at dealing with minor infections like cuts, but it is not good at dealing with major infections," says Dr. Reynolds. "Our lungs are exquisitely sensitive to inflammation, and once infected, our immune system runs away with itself and ends up causing the lung injury."
Knowing that helping a patient heal goes beyond the technical aspects, Intensivist Dr. Derek Gunning and a team of nurses and respiratory therapists orchestrated a trip to the rooftop garden for Les one day after having spent three months in the hospital. "We learned that he really loved the outdoors, so we bundled him up in a wheelchair connected to a rolling cart stacked with monitors and portable suction units," recalls Andrew Bailon, Respiratory Therapist. "It did him so much good to have 20 minutes of fresh air and to bask in the sunshine."
A critically ill patient's care involves a veritable army of highly specialized medical and support professionals, from intensivists, respirologists and nurses, to social workers, physiotherapists, respiratory therapists and everyone in between, working around the clock to ensure the best possible care.
"Our first focus is always patient and family—it is the cornerstone of how we deliver care, make decisions, develop policies and procedures," says Lia Carter, ICU Health Services Manager. "Building on this is our concept of 'together we can, together we do'… no matter how complex a patient is, no matter where the patient is, we just figure out how we can bring our services there and do what we can… we just make it happen… that is the kind of unit we are."
In November 2011, Les finally came home. With oxygen support, and the loving care of his family, Les gradually learned how to sit up, walk and eat again, and move forward with some in-home rehabilitative therapy. Although Les feels his recovery has been slow, painful and exhausting, he is grateful to be able to enjoy life with his family, and get outside when the weather is nice.
"It's not until you're in the ICU that you understand the immense responsibility and compassion that the doctors, nurses, RTs, everyone has for their patients," says Les. "It is amazing the specialized equipment and skills needed, and how many professionals are working at a time to coordinate your care."
In addition to Amanda volunteering at RCH, the Yuen family will be returning to the ICU before Christmas, as they do every year, to once again say thank you for the care Les received.
"The ICU staff helped create a home away from home for us. Taking the time to get to know us not only offered some normalcy in our lives, but also helped alleviate the stress of having a loved one in the hospital," says Amanda. "I had never experienced so much compassion, kindness and support from strangers before, and that is something that will stay with me forever."