Halloween is always a huge affair in the Rogal household. Peter and his family carve over a hundred pumpkins that are put on display each year outside their Tsawwassen home. But unbeknownst to the Rogals, October 31, 2013, would end up being part of much darker episode that brought Peter to the brink of death and back again.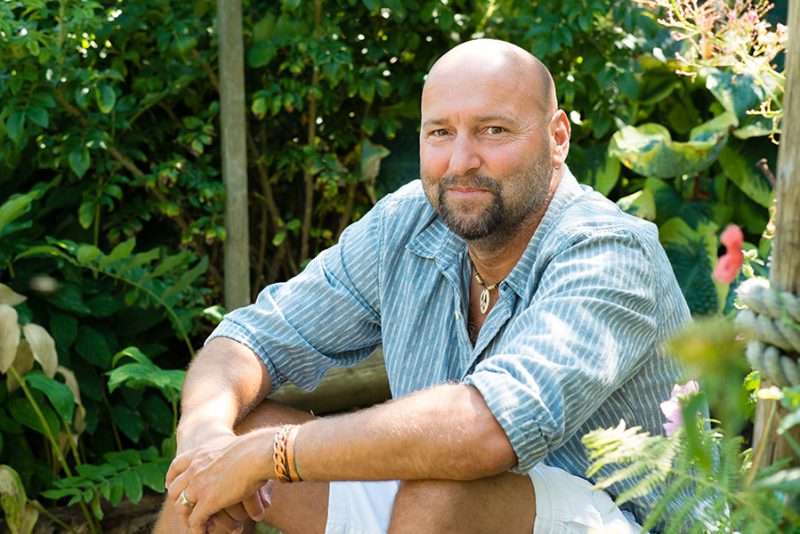 The 50-year-old man wasn't feeling well that Halloween. For several days, he had been battling what he thought was the flu.
"That day, he was coughing a lot," says his wife Tracy. "He still had a fever, he was tired and was struggling to get done what he normally would do that day." After setting up his Halloween display, he had very little energy and went to bed early, unable to enjoy the evening as he normally would.
As the cough became deeper over the next couple of days and the fever remained persistent, Tracy suggested Peter go see a doctor. But through unfortunate timing, Peter went to a nearby clinic at a time when his illness seemed to have eased somewhat. He was sent back home to rest some more. Two days later, his symptoms started getting worse.
"Monday is when I recall starting to watch him, because his breathing was much worse," remembers Tracy. "He started gurgling when he was sleeping at night. I could hear his irregular breathing. He was coughing a lot more, sweating excessively, had developed a headache unlike anything he had felt before and was no longer going to the washroom."
"I have no memories, honestly, from Halloween night to the day I went to the hospital," adds Peter. "I can't remember anything that happened."
He decided to go to Delta Hospital after having a coughing fit that left him unable to catch his breath. Peter remembers walking into the ER, where he was given an oxygen monitor test. The results alarmed emergency department staff.
"I just remember them taking my shirt off," says Peter. "That's all I remember, them taking my shirt off, and me saying something to Tracy. I love you, or I'm sorry."
"They told me they were putting him on a ventilator, and they were inducing a coma," says Tracy. "They told me to say goodbye, and he said he loved me."
While the cause of his serious illness was still unclear, it was decided Peter would be sent next to Surrey Memorial Hospital's Intensive Care Unit. His prognosis, however, was quickly getting worse. As Tracy arrived in Surrey, a doctor took her aside to tell her Peter may not survive much longer, as even on a ventilator, they were unable to get enough oxygen into his blood.
"All I heard was he had less than a ten percent chance of making it through the night," recalls Tracy. "I needed to call our family, including my children who were on vacation. I don't remember thinking much, except how is this possible? How does someone walk into the hospital in the morning and end up in a coma fighting for his life only a few hours later?"
With Peter clinging to life, doctors felt there was perhaps one last option: the ECLS machine at Royal Columbian Hospital.
"ECLS is an abbreviation that stands for extracorporeal life support," explains Royal Columbian Hospital's Dr. Derek Gunning. "It's a technology used to support patients' heart and lung function when they have either critical end-stage heart or lung failure."
A team from Royal Columbian went to Surrey to connect Peter to a portable version of ECLS, amid fears Peter would not survive the ambulance ride across the Pattullo Bridge without the equipment.
Peter was brought to Royal Columbian Hospital's Intensive Care Unit, where he was surrounded by equipment, including ECLS. The Tsawwassen man who takes pride in his healthy lifestyle was considered by many at that moment to be the sickest man in the province, and it was still unclear why.
But an answer would finally come. "Luckily, we took a good specimen and the microbiologists were very quick to come back with an explanation," says Dr. Gunning. "They came back and told us it's this rare bacteria."
Legionella longbeachae is a form of bacteria that can cause a severe type of pneumonia known as Legionnaires' disease. This particular species is rare in our part of the world, with perhaps only one or two other documented cases in this province in the last few years.
Peter's health slowly improved after his arrival at Royal Columbian. He was kept on ECLS for close to a week and awoke from his coma ten days after being induced. It was quite a shock when he opened his eyes.
"I didn't know if I was dead," says Peter. "Honestly, it was just ridiculous. I had no idea. I thought alien abduction, dead, paralyzed, take your pick. I didn't know."
Down 40 pounds, suffering from atrophy, unable to walk or feed himself and in need of temporary dialysis, Peter would stay in hospital to recover until the end of November. Today, he is feeling better, stronger, and grateful for the care he received.
"I am the luckiest guy in the world," says Peter. "I am just thankful that ECLS was available, and the staff at Delta Hospital, Surrey Memorial Hospital and Royal Columbian Hospital were so dedicated and knowledgeable—everything just worked perfectly. If it wasn't for them, and all three of them, not just one or two of them, I wouldn't be here."