Curtis Zanussi was almost buried alive, but quick-thinking rescuers and a determined trauma team at RCH saved his life.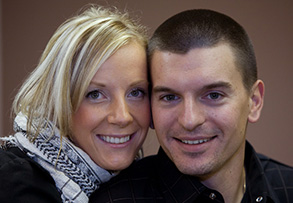 A Trauma Patient's Tale
Curtis Zanussi was literally hovering between life and death when he arrived at Royal Columbian Hospital by air ambulance on October 4, 2007. His pelvis was shattered, skin had sheared from his leg and backside, he had a collapsed lung, broken ribs, internal bleeding and was barely conscious.
The 25-year-old from White Rock had been standing in a trench on the construction site of a new golf course in Aldergrove when it collapsed.
Buried up to the armpits by two tonnes of sand, and unable to breathe, he would have died on the scene if quick-thinking co-workers hadn't scrambled to dig him out using spades and an excavator, and then administered CPR.
Zanussi was treated at the scene by paramedics before being airlifted to Royal Columbian Hospital, Fraser Health's only Level 1 trauma centre. In the Emergency Department, a trauma team fought for several hours to save him as he struggled to breathe and his blood pressure dropped due to internal bleeding.
"He was quite ill when he arrived and we had to stabilize his vital signs," recalls Dr. Joseph Ip, the Trauma Team Leader on the day of the accident. "Major chest injury and pelvic injuries are life-threatening and if not handled immediately, the patient's respiratory and circulation systems can be compromised."
When Zanussi was taken up to the Intensive Care Unit (ICU), his life was still on a knife edge. To save him from the potentially devastating effects of shock he was put into an induced coma for 10 days.
He spent weeks on a ventilator before his condition improved enough to allow him to be moved to the Critical Care Unit. There, he felt well enough to propose to his girlfriend Kerri. The remainder of his stay was spent on the orthopedic ward.
"An unbelievable team of doctors did everything they could to save me and I feel so grateful for everything that was done for me during my stay at RCH," Zanussi says.
During an almost three-month stay at RCH, he had two operations to repair his pelvis, which was fractured in six places. He wore a stabilization device that held his pelvis in place by attaching pins in his bone to an external brace. He endured another four trips to the operating room to remove dead tissue caused by an infection under his damaged skin.
Dr. Trevor Stone, one of the orthopedic surgeons who have overseen the young man's care and rehabilitation, says his attitude in the face of adversity was admirable. "Curtis had an excellent outlook and attitude, and I think that's a real credit to him," says Dr. Stone. "He had to go through a lot of surgeries but he always showed confidence in the team around him and remained very upbeat, and that probably made his experience a lot more positive."
Zanussi was released in time for Christmas to continue his recovery at home.
A year after he suffered those catastrophic injuries, a very different young man made a return visit to RCH to acknowledge the staff and members of the BC Ambulance Service who all played a part in saving his life. Walking without crutches and with Kerri, his bride of two months by his side, he was determined to deliver his heartfelt thanks in person.
The doctors and nurses who work in the Emergency Department often don't see patients again once they have been transferred, so his visit provided a rare opportunity for staff to celebrate a critical patient's return to health.
"Curtis is a very strong person and I'm very happy to see that he camethrough and he survived horrible life-threatening injuries and I wish him well," says Dr. Ip.
Zanussi remembers very little about his dramatic arrival at RCH, but a photograph taken as he was wheeled out of the helicopter now hangs in his home as a reminder of the day he almost died.
"It blew my mind to see myself strapped to a stretcher, but it shows with such vivid detail the people involved in the rescue working to save my life."